Stopping at the Fish
We are a participant in the Amazon Services LLC Associates Program, an affiliate advertising program designed to provide a means for us to earn fees by linking to Amazon.com and affiliated sites. We participate in other affiliate programs as well. For more details, please see our disclosure policy.

I must be in a hurry these days. And God must be sending me a message. That I need to stop and smell the roses.
The idea of this series came to me at the very last minute on Sunday night. I quickly made a button and threw up a post. And ever since then, God has thrown me opportunities to slow down and savor the moment.
One of those moments was on a "quick trip" through Walmart. I had the four younger kids with me; we were looking for toilet paper and potting soil, two very important things if you homeschool. The potting soil was for a science experiment. And the toilet paper, well, I'm sure you understand.
At our Walmart the pet department is conveniently located next to the cleaners and toilet paper. But, since we no longer own any pets, I have no occasion to go down those aisles. But, out of the corner of my eye, I saw the tiny fish department.
I had flash backs of all the days my sisters and I raced to KMart's fish department when we were kids. We hung out there for hours it seems. My mom must have been extremely patient.
I also realized that I'd never sat at the fish with this group of kids. Sure, I did it all the time with my eldest. But these guys? Well, sometimes I forget that they haven't always been around.
So, we stopped and looked at the fish. And I told them the story of how once upon a time we bought two mollies and we ended up with seventeen. And the molly mama wanted to eat her babies and we didn't have a fish net, so my husband used my fine mesh strainer to fish the babies out. It was a momentous occasion.
And they might have missed hearing about it.
Stopping at the fish is a great way to stop and smell the roses.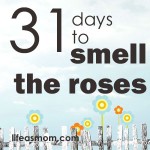 The days are long, but the years are short. I don't want to miss them! For more short and sweet ideas on how to stop and smell the roses, to enjoy the little things in life, check out my 31 Days to Smell the Roses series.
Don't miss a post in this series. Subscribe to 31 Days to Smell the Roses by RSS or email.