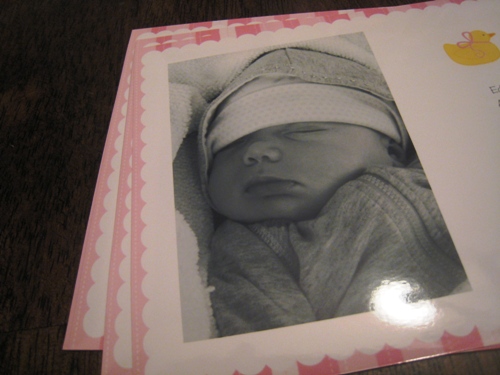 Warning: I'm guessing that today's post and subsequent links are not for the faint of heart. If you don't want to hear about episiotomies, tearing, or other physical details of labor and delivery, come back another time.😉
Recently Amy posted a funny (as always) little tidbit about swapping Childbirth stories. If you're a mom, whether through biology or adoption, you've got a story to tell. And don't we love to hear them?
As promised, here's my latest, rather short and sweet, birth story:
If you've been tracking with me over the last couple months, you know that in this pregnancy, I've had several "wild" nights, when my Braxton-Hicks were so intense and so regular that I thought it was the real deal. However, since I know that a "false alarm" would cost us bigtime (financially) at the hospital, I've always stayed at home, waiting to see if it was "practice" or not.
Well, Monday morning rose bright and sunny. I had had a good sleep after several days of forced rest due to nausea. It was about 6 am and I felt lots of pelvic pressure, but no contractions. My first contraction started about 7 and they continued at four minute intervals from the get-go. Before FishPapa had even made his coffee, I was pretty sure it was the real thing. A little before 8, I called my OB's answering service.
Note to answering service office managers: Big Bands music is not a good choice for your "on hold music selections."
The operator told me who was on call and that Dr. A (my doc) would switch on duty at 9. Didn't think we should wait until then, so I left a message.
Shortly after that we decided to just head to the hospital. I knew these were "real" and since we were going to induce the next day anyway, it seemed like the time to go. It's a good thing, too, since the on-call physician never called us back.
Subsequently, the nurses were not expecting us, but it was early and slow, so we got into a room and checked in. We were blessed to see Joy again, the nurse who "caught" FishBoy4 when the on-call physician didn't get there in time. We all laughed at the memory, and I liked it that the people who delivered my last two babies were both going to be there.
At this point I was 5 to 6 centimeters at about 8:30. At 9 Dr. A came and checked me. I was 7cm. He suggested that we break my water and be done in an hour. An hour sounded good to me. So, we continued to labor.
Since I'm an "all-natural" girl when it comes to birthing babies, I relied on relaxation and breathing techniques to get me through each contraction. However, they were never too overwhelming. But, for that first 45 minutes I sat on the bed. FishPapa put pressure on my back with each contraction which definitely helped. I knew I needed to change positions, but for some reason I was hesitant to.
At 9:45 our nurse and Dr. A both came in and I asked for suggestions. My brain wasn't able to do the thinking on its own! They both said to get out of bed. So, I did. Stood for one contraction. Dr. A said he'd be back at 10 to check me. (He still had patients to see all day!)
I sat on the birthing ball for about four more contractions and knew it was time. Just a few minutes before 10, the doc and nurse came in and heard me vocalizing. Both commented that it was time — and don't push!
Easier. said. than. done.
I'm amazed that I climbed in that bed as quickly as I did! But there was no holding back at this point. Dr. A was scrambling to get on shoe covers, a smock, and gloves. He almost made it! By the time she crowned, he had one glove on and a nurse was frantically trying to get him set up on the other hand. But, the baby was basically out. I was trying to hold back, really. He said I could push and with two more pushes, my sweet girl met the world.
She was born at 10:01. Does Dr. A+ know how to call 'em or what?
I got to hold her and nurse her right away. She latched on with no problem. It just all felt so great — especially the "other side of pregnant part." That was one of the things that motivated me — I know how good it feels to be on the other side and hold that sweet baby.
(At least until the afterpains kick in.)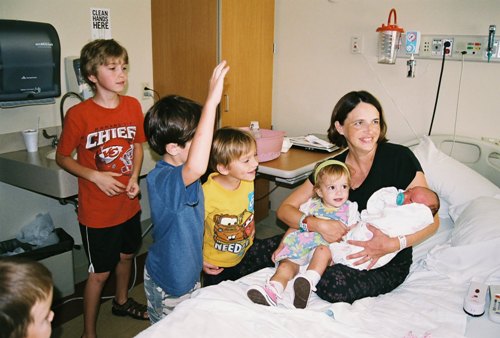 What's your story?!
1. Write about it on your blog and bring your link back here. (For specifics on how to post in Mr. Linky, go here.)
OR
2. Share it in the comments section.
P.S. I'll be back later with pics and an update. We've had a few bumps in the road, but are seeing God work in it all in an amazing way — of course.