This is the last week of the Build a Frugal Pantry series over at Good Cheap Eats. It has been such a great exercise in examining what can make a pantry explode with possibilities, even on a small budget. If you haven't already, pop over and check out all the great guest posts and new recipes as well as a wealth of info about the 12 ingredient groups that will make your pantry one you'd be happy to eat out of.
That said, our last and final "ingredient group" is Nuts and Seeds. While these have gotten a bad rap in years past, they are coming back into fashion as we understand the healthy fats they contain as well as a host of other good stuff.
One recipe that I love to use nuts in is Streusel Topping.
According to my well-worn copy of the Food Lover's Companion, streusel is "A crumbly topping consisting of flour, sugar, butter, and various spices that is sprinkled on coffeecakes, breads, muffins, and cakes. The word streusel is German for "sprinkle" or "strew."
In my family, we (meaning my mom and I) have always added nuts to our streusel. We love it on Raspberry Muffins, and it is the topping that makes Nanna's Apple Pie and Slab Apple Pie so great. Really, you can add this basic streusel to any bread, cake, or muffin recipe that you already love. Try it on Mix and Match Muffins or on Chocolate-Chip Banana Bread. Yummy!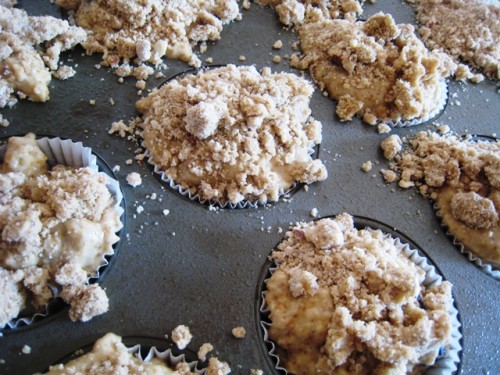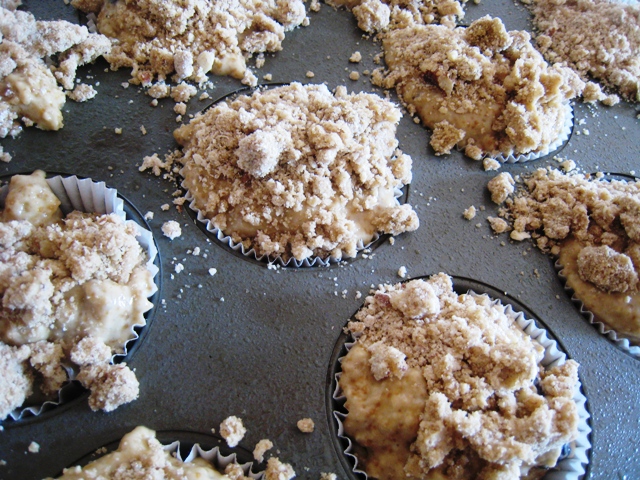 Streusel Topping is super easy to make. And if you have nut haters (like we do) in your family, you can easily disguise them. Obviously, if there are food allergies in your midst, you don't want to put nuts in this. But, if they just don't like them, they'll never know.
Having a food processor makes this recipe come together in a snap, but you could always use a pastry blender or two table knives to cut in the butter and then stir in finely chopped nuts.

My Mom's Basic Nutty Streusel Topping

1/2 cup flour
2 Tablespoons butter, cubed
1/4 cup brown sugar
1/2 cup walnuts, pecans, or almonds
1 teaspoon cinnamon
1/2 teaspoon almond extract

Place all ingredients in the bowl of food processor. Pulse until coarse crumbs are formed. Sprinkle over unbaked pies, muffins, cakes, coffeecakes, or muffins. Bake according to recipe directions.
What's your favorite way to use nuts or seeds?
Share it with us today at Ultimate Recipe Swap. Leave the link below or share your recipe in the comments section.
Next week on URS: Anything Goes! Bring your current favorite.