The following content is brought to you by Compass Cinema: Congrats to the winner: Rhoades04@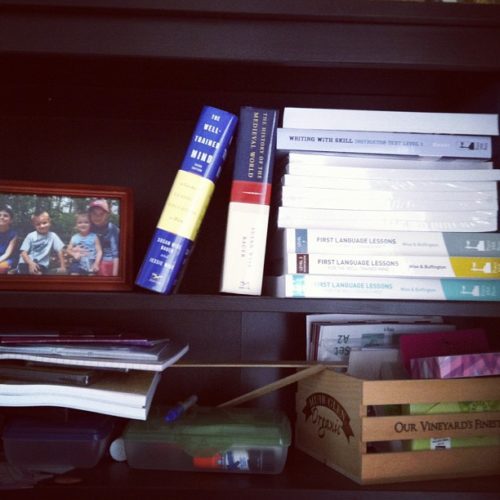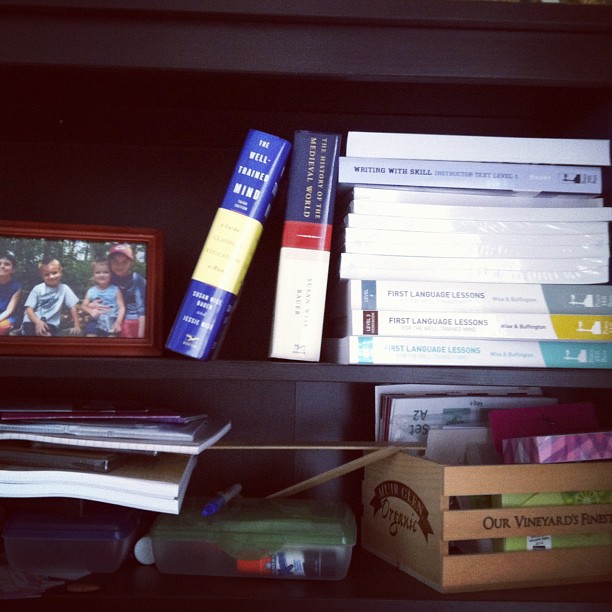 We have three weeks left of school. We are all looking forward to winding down and taking a break from trying to pack it all in everyday. The kids will still be doing math and reading over the summer, but for the most part, we'll be kicking it.
However, since I'm a total curriculum geek, I'm already thinking toward next year. I'm thinking through how I will teach kindergarten, second grade, fourth grade, sixth grade, eighth grade, and eleventh grade. Whew! Yes, the next two years will be the pinnacle of my homeschooling career as all six of my kids will finally be school age. In a few years, as the FishBoys graduate, those numbers will dwindle back down. In the meantime, I am on my toes.
One of the ways that I make this work is to outsource certain subjects where possible. This past year, my older boys took science lab classes from a fabulous teacher. My eldest studied Latin through the Visual Latin online courses. And all the boys did their math via Teaching Textbooks.
Outsourcing is a great way for me to have my cake and eat it, too. I have one-on-one instruction time with each of my kids, but I also build in subject matter that they can engage with on their own. We've done Visual Latin online courses from Compass Cinema for a few years now. My son loves it! In fact, even though coursework is done for the year, he's reading his Latin book everyday — for fun!
We've had such a good experience with Visual Latin, that I had no qualms of reviewing Compass Cinema's American History curriculum. 
The American History course, lectured by Dave Raymond, gives a comprehensive history of the United States by applying a Christian worldview to the characters, events, theology, literature, art, and religious beliefs of the nation. It is designed for students age 12 and up, specifically those in upper middle school and lower high school.
I haven't watched all the lessons yet, but from the ones that I've seen, I can say that the subject matter is presented in an easy-to-understand manner. The early lectures are fairly heavy on explanations and reasons for studying history, much like the first day of class is like in a physical course. One thing is evident: the teacher clearly explains how to view the events of history through the lens of Scripture and a Christian worldview.
American History – Part 1 is intended to cover one semester. It consists of 13 lessons plus 2 projects. Each lesson includes five approximately 10-minute lectures (for an hour of teaching per lesson), daily tasks, readings, weekly exams, and more. A year-long journal is also a part of the class. This American history homeschool curriculum also utilizes a Student Reader with over 100 pages of original texts and writings from history.
The quality of these video classes is superb. I'm so impressed with the film making, that I'm entertaining ideas of buying their film making course for FishBoy12.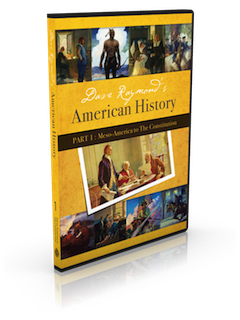 I love being able to find sources for school that can stand on their own. This also makes it easy for my husband to participate in our schooling. I can see these videos as being great fodder for discussion among the FishMen next year.
This weekend, one Life as MOM winner will win a DVD copy of Dave Raymond's American History (a $75 value).
To Enter:
Simply complete the information on this form. Please know that the information is only being gathered for the purposes of mailing you your prize in the event that you are chosen as the winner. This information will not be sold, traded, or given away.
This promotion is open until Sunday, May 19, 2013, at 8 pm PST and is limited to US residents, 18 years or older. Friends and family of Jessica Fisher and Life as MOM are ineligible for entry. Please enter only once. The winner(s) will be chosen randomly. The prize for this promotion is provided by and shipped by the Compass Classroom and/or its representatives. This post will be updated with the beginning of the winner's email address.
Disclosure: I have been compensated for my time and been given sample product. All opinions are my own. I am an affiliate for Compass Classroom. If you make a purchase through any of the above links, I will receive a small portion of the sale.