Stuff You Should Know
We are a participant in the Amazon Services LLC Associates Program, an affiliate advertising program designed to provide a means for us to earn fees by linking to Amazon.com and affiliated sites. We participate in other affiliate programs as well. For more details, please see our disclosure policy.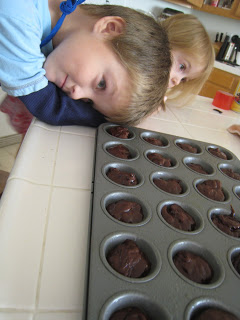 I am swamped with stuff to do, boxes to unpack, ideas to write down, lessons to teach, kids to cuddle, and brownies to bake for people like these monkeys. But, it's a good swampiness, surely. We've got a nice roof over our heads, lots of good food to eat, and we're slowly settling into a groove.
However, the Cootie Monster is tapping at the door. FishPapa thinks he's getting sick. And, I definitely see the signs. He took quite a long nap after work today and went to bed before the kids. Sure evidence that something is amiss. Your prayers for his health — as well as ours are appreciated. In a family this large, once one of us gets sick, we all get sick. It can take up to 2 months for the germs to run their course. So, I'd rather have a blitzkreig and get it over with than a long siege.
Anyway, that's my lil' news. On to more exciting topics….
You Make Me Laugh
I loved your comments on the giveaways last week. Warmed my heart that so many of you are enjoying recipes and cakes that I've shared with you. I'm really not talking to myself! This continues to amaze me.
Hilarious what y'all thought my biggest cleaning challenges were/are. To be honest, I like doing laundry, even for so many. I'm not often caught up, but it's not a chore I hate. That would be dishes and clutter. We've got lots of those.
Thanks to everyone who played in last week's giveaways. Ready to hear who won?
Giveaway Winners
YogaChips – #51 rrudnick will receive a huge prize package of apple chips from YogaVive.
Cooking with All Things Trader Joe's – #86 Mother Hen, #37 jtmkcm@, #24 Marj M will each receive a copy of this cookbook. (#1-61 were in the comments section of the giveaway post, #62-117 were participants in URS)
OxiClean Baby Kit – #6 Blommom and #61 k_t_holm@ will be fighting baby stains with gusto pretty soon.
Sara Lee Deli – #114 KK, #28 kbroderi@ and #39 jolie will each receive coupons for free Sara Lee Deli meats.
If you're a winner, please send me your mailing address so that I can get your prizes shipped to you pronto-like.
This Week on Ultimate Recipe Swap
The topic this week is Baked Goods. Bring your favorite recipe for baking to share. I had hoped to post our foccaccia recipe. Unfortunately, the vultures my family devoured it before I could take a photo of the finished product. Another time. But, I have other recipes to share. I'd love to have you participate, so check out the guidelines. There will be a fun giveaway included as well.
Help Me Help You Make a Great Meal
If you haven't had the chance yet, I'd love it if you would fill out this survey to give me feedback regarding the ebook I'm preparing about make ahead meals. I am writing it for you, after all, so let me know what you need to know to make things easier at your house come dinner time.
I guess that's it. As always, feel free to email me (lifeasmom AT sbcglobal DOT net) with questions, comments, or birthday cakes.