For my first 10 years of parenting, blue was the primary color in these here parts. With four boys in 7 years, I never thought that I would ever see pink or ribbons or Mary Janes. God, of course, had other plans. And while it's taken some adjusting, we all – even FishBoy5 – appreciate the joy and sparkle that the girls have added to our family.
One new practice that I've acquired is that of "doing hair." I've never really had to do much for the boys except buzz it, wash it, or comb it. It's a whole new world when you've got a girlie. It seems that I put in a clippy five times a day — and find them in the strangest places.
Recently, Ella Bella Hair Clippies sent us some samples. And how cute they are! Crafted by a mom of a daughter with unruly hair, these are beautiful, quality hair clips and headbands. Problem hair? This mom's on the job. All the hair clips are handmade and every clippy features the "hold it" grippy so the clip won't slide out.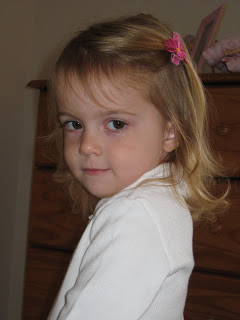 All of the clippies that we received were absolutely gorgeous, and I felt so fancy to open the beautiful organza bags that they were packaged in. One of FishChick's few words is pretty, so she, too, was pretty excited to see her new clippies and to try them on.
(I am withholding one or two of the more delicate ones, like the blue kitty pictured, until she's matured a little more. That may be old hat to you more experienced mothers of girls. But, I've learned the hard way that two-year old girls can destroy things – like hair clips – just as easily as two-year old boys.)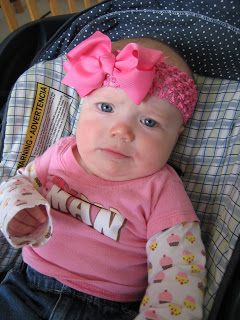 FishBaby was extremely interested in yanking her headband off and sucking on it. But, if your little one is more tolerant, I'm sure she'll look even sweeter than she already does.
If you'd like to win a set of Ella Bella Hair Clippies, this may be your week! Go here for the details.