Summer Goals: Have you made them?
We are a participant in the Amazon Services LLC Associates Program, an affiliate advertising program designed to provide a means for us to earn fees by linking to Amazon.com and affiliated sites. We participate in other affiliate programs as well. For more details, please see our disclosure policy.
About a month ago, I shared with you the six goals I had for my summer. Six goals, six weeks, I thought I'd do one a week. But, no.
That really wasn't realistic. OK, one thing did take a whole week to do! I did get the office cleaned. See?
It's still not as spiffed out as I want it to be. But, at least we can see the floor.
The other goals? Well, I've worked on them in bits and pieces. All of them.
Except for the scrapbooks. I got as far as ordering the girls' albums. Once they came I found out that Creative Memories no longer supplies pages with their books. C'mon, people. How hard do you have to make this?
It's like shrinking the size of the tuna can, but keeping the price the same. Sheesh.
I've got five more goals on my list for the summer:
1. Office – done.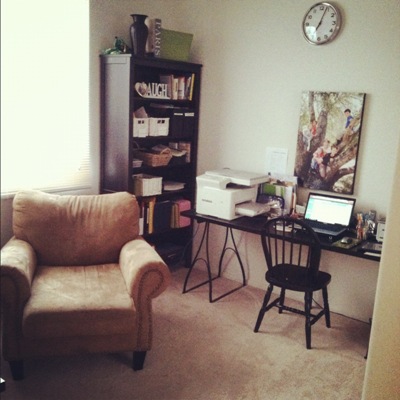 2. Canning and freezing summer produce – this is an ongoing gig. Right now we're trying to "eat down the freezer" in a pantry challenge. Then we'll have room for more frozen summer produce.
3. Scrapbooking – see the above rant.
Really, I need several hours to edit photos and order them to be printing. Note to self: do this during movie nights.
4. Prep for school – My friend Cyndi and I have hung out twice so far and chatted up school stuff. I think I have it all mapped out in my head, I just need to hit "send" on my order.
Oh, and clean out the school room. I forgot that there was a subplot to that simple goal. It's a mess with old papers and books, so I have some reorganizing to do before we hit the ground running on the 2012-2013 school year.
5. Write – My sister and lovely assistant has been breathing down my neck to get the lastest ebook manuscript ready.
OK, not really. But, that sounds dramatic, does it not? She's actually been quite patient. I'm hoping to get it done and in her hot little hands in just a few hours. I'm really excited about this book. I hope you will be, too.
Look for it on July 25th. Any guesses?
6. Coffee meet-ups – I'm still holding out hope for a coffee meet-up with YOU this summer. If you're interested, fill out this form. It looks like San Diego will be a "for sure", just not sure on other locations. So let me know if you wanna come.
So, those are my goals for the summer.
What are yours?