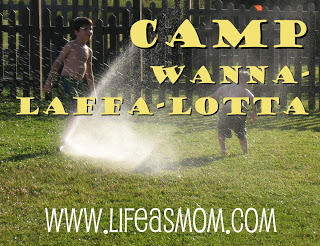 Are you ready for summer? Schools will be breaking soon and you're gonna have some bored kids if you don't plan ahead. Trust me.
Years ago, our family hosted a weekly summer camp — at home. It was a great time for friends and neighbors to come over on a set day of the week to play and visit. I was inspired by the sleepover camp that the Parent Trap girls attended back in the 50s and tried to provide activities and crafts and fun summer food. We even had a special name for it – Camp Wannalaffalotta.
(You can read my article about how to host a playday of your own like this here.)
Since I can't invite you all over once a week, I thought I would host a virtual playday here at LifeasMOM. Each week I will be posting activities to do with your kids. They'll work around a theme and include crafts, storybooks, activities, games, and food. And, Lord willing, there will be more than you could possibly do in a day, so don't be overwhelmed. Just choose a few that look fun and enjoy your family and friends.
Camp Wannalaffalotta starts Monday, May 25th and will continue every Monday until Labor Day. So check back often and I hope you'll laffalotta this summer with your peeps.
If you'd be interested in guest posting or contributing links, please email me.