Summer's Here! Plan to Have Fun
We are a participant in the Amazon Services LLC Associates Program, an affiliate advertising program designed to provide a means for us to earn fees by linking to Amazon.com and affiliated sites. We participate in other affiliate programs as well. For more details, please see our disclosure policy.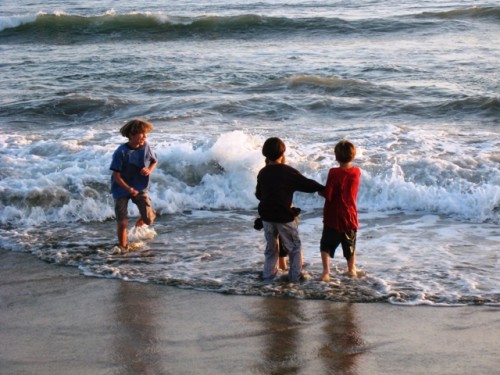 Ready to have a great time this summer with your kids? While spontaneous adventure is great, a little planning will ensure that you don't spend the next three months playing video games.
Make a summer to-do list
We've done this for several summers now, thanks to some friends who passed on their family tradition to us. Near the end of the school year, the FishKids and I sit down with pen and paper and jot down all the fun things that we want to do with our summer break. Last year we had a great time with our 42 Days of Summer Vacation. Last week, we prepared this year's list as well as a loose schedule for our days.

A Schedule for Summer?!
Yes, I know it probably sounds very OCD. However, as FishPapa says, "You can't turn an aircraft carrier on a dime." And last time I checked our family was much like an aircraft carrier, at least in size.
Big family justifications aside, I had a summer schedule years ago, long before we could man a basketball team. I found that giving a loose structure to our days was helpful to everyone, especially to me. I would be less likely to surf the morning away if I knew the kids were waiting to go to the library or the park. And they had fun things to look forward to. And I heard, "I'm bored," very infrequently. And I went to bed feeling like we redeemed the days.
I'm hoping that this schedule will give enough structure to help us be productive and have fun at the same time as not be too restrictive. I don't know about you, but at our house, all plans are subject to change.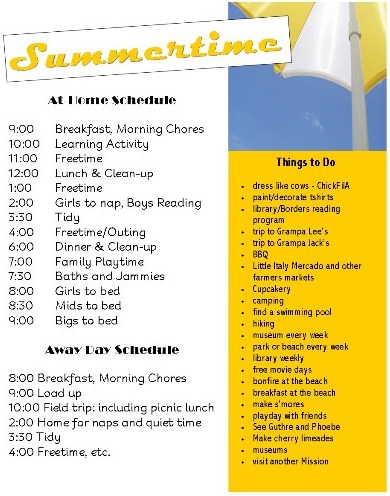 I'm hoping for three away days per week, alternating amongst the library, the park, play days with friends, the movies, some Camp Wannalaffalotta days, and the beach. There's no shortage of things to do away from home, but I am a homebody by nature, so three days out is huge for me. I'll let you know if I survive.
Plan to Have Fun!
Don't let the summer pass you buy! Talk with your kids, brainstorm, and Make a Big TO DO Out of Summer!
What's on your summer to-do list?