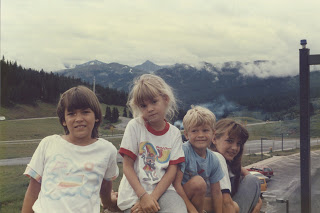 When I was a young girl growing up in Southern California, we rarely spent the summer at home. Since my dad was a schoolteacher, he had all summer off. So, he and Mom loaded up our VW Bus (remember those?) with five kids and the makings of many peanut butter and jelly sandwiches and headed "back home," as he called it, to Minnesota where he and my mom were born and raised.
My summer memories, at least from those days, consist of singing along to John Denver's "Country Roads" as we traversed the Rocky Mountains and fighting my siblings for the seat closest to the air conditioning vents. An "efficient" driver, Dad liked to take the shortest amount of time possible to make the trek. Translation: few stops, early mornings, late nights, and the occasional sleeping in the van at a rest stop — or on the side of the road. Yes, those were the days….
(That's me and three of my siblings feeling a little saddle sore. Sorry I don't have a shining, happy people picture. My sister – the one with the Dorothy Hamill 'do –chose it.)
Now, while the "trip" was close to Chinese water torture (God bless my mom!), once we arrived in Minnesota, things were much more fun —
Baking with my Gramma in her basement kitchen. She was a blue ribbon baker and made great pies!
Playing cards with Gramma and my cousins and listening to my cousins bravely accuse her of cheating!
Fighting mosquitos with a vengeance. Yeah, that's not really a fun part. Memorable though since I'm allergic to the little buggers.
Raiding my Aunt Peg's basement kitchen. She always had a pan of "bars" waiting for my teenage cousins and their boyfriends. The freezer was always full of Otter Pops, too. The trick was to drink the melted "juice" without coughing.
Riding bikes with my cousins around and around and around the block
Shopping with my ultra-hip cousin
Sitting on my aunt's porch listening to the grown-ups talk and laugh.
Sleeping in a cool basement at the end of a hot, sticky day
Despite the discomfort of the journey, the vacation was pretty care-free, as all childhood vacations should be. I may sound jaded, but really, it gives us lots of laughs now to recount those days. I think my siblings and I all have great memories, though we now choose to make hotel and air reservations when we travel.
What's your favorite summertime memory? Share it in the comments section so that we can all be inspired toward great memory making with our kids this summer.