Cabbage can make a tasty, affordable salad, especially when purchased on sale. This cole slaw recipe bursts with sunshine flavors of lemon, carrot, and chive.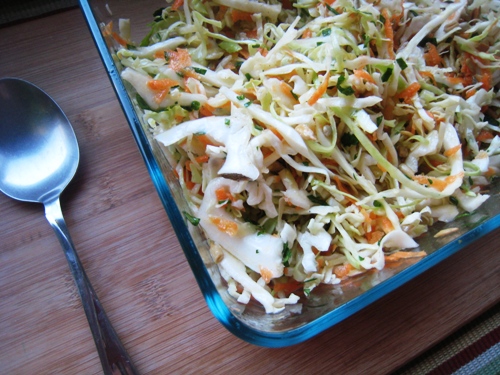 Usually cabbage goes on sale about this time of year. In anticipation of the folks who actually eat boiled cabbage for Saint Patrick's Day, you should be able to find it for a lower price this week.
The beauty of seasonal sales is that you are in no way required to use said sale item for the reason that its price was lowered. Using seasonal items throughout the year for multiple purposes is a great way to save money. And so, this week we're sharing cabbage recipes.
Typically we use cabbage uncooked in salads and in tacos. I have added little bits to soup, but typically we haven't ventured too much into the cooked cabbage realm. Raw cabbage adds a wonderful crunch to salads and helps you stretch higher priced salad greens.
This Sunshine Cole Slaw is full of bright and crisp flavors and textures, perfect for those end-of-winter doldrums. And it makes use of seasonal produce as cabbage, carrots, and chives tend to do better in colder weather or are long keepers. The sunflower seeds add great crunch and texture.
Recipe: Sunshine Cole Slaw
Ingredients
10 ounces shredded cabbage, about 8 cups
1/2 cup shredded carrot, about 1 large
1/4 cup roasted and unsalted sunflower seeds
1 tablespoon chopped chives
1 tablespoon chopped parsley
1/3 cup lemon juice
1 teaspoon brown sugar
salt and freshly ground pepper, to taste
1/3 cup olive oil
Instructions
In a large bowl combine the cabbage, carrot, sunflower seeds, chives, and parsley.
In a small bowl, whisk together the lemon juice and brown sugar. Season to taste with salt and pepper. Add the olive oil in a thin stream, whisking to blend.
Pour the dressing over the salad and toss to coat well.
Chill before serving.
Preparation time: 10 minute(s)
Number of servings (yield): 8

URS Guidelines
Remember: Each week at Ultimate Recipe Swap, there is a posted theme. You are welcome to share any recipe that fits the theme and contains a link back to Life as MOM. If you're curious about the upcoming themes, I have a calendar here. Last week was Grains, this week is Cabbage, next week features Dairy items, like butter, cheese, and milk.
If you have a recipe that fits the theme, please link it. However, things like Beef Strogonaff will be deleted from Chicken week because it doesn't contain chicken. Please keep this meme as helpful to others as we can.
And don't make me the bad guy!