Hold onto your hats! We've got a great new book, a super tool to help you read with your kids!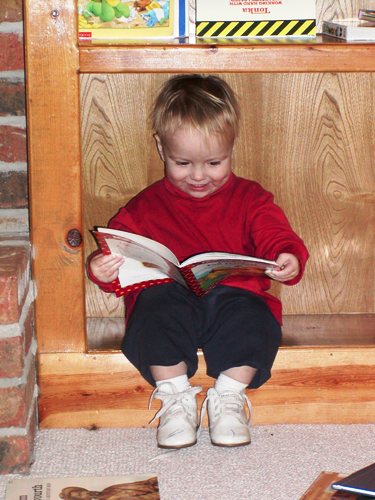 Look at that boy! He's so happy! Today he's ten, and he's as much in love with books now as he was at two.
The love of books was one thing that I really, REALLY wanted my children to inherit. Praise God they have! All six kids love to read and be read to, depending on age.
Family read alouds have been a part of our family culture since the beginning.
I credit this joint reading experience as one of the things that has helped foster a love of books in my family. Our kids often love the things that we love.
Shared experiences, particularly positive ones, help imprint that habit or experience in their lives.
But, where do we start in reading aloud?
It can be hard to know where to start in reading aloud to your kids. I wrote extensively about this in The Summer Survival Guide.
Reading is integral to a fabulous summer. Those of you who've worked through the guide with your children know that it provides a wealth of book titles and extension activities to do with your kids.
Kids + great books + fun activities + Mom = GOOD TIMES!
This is your formula for having a great summer. And I'm so excited to tell you about another book, another super tool to help you read more with your kids.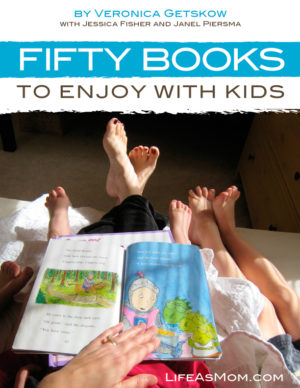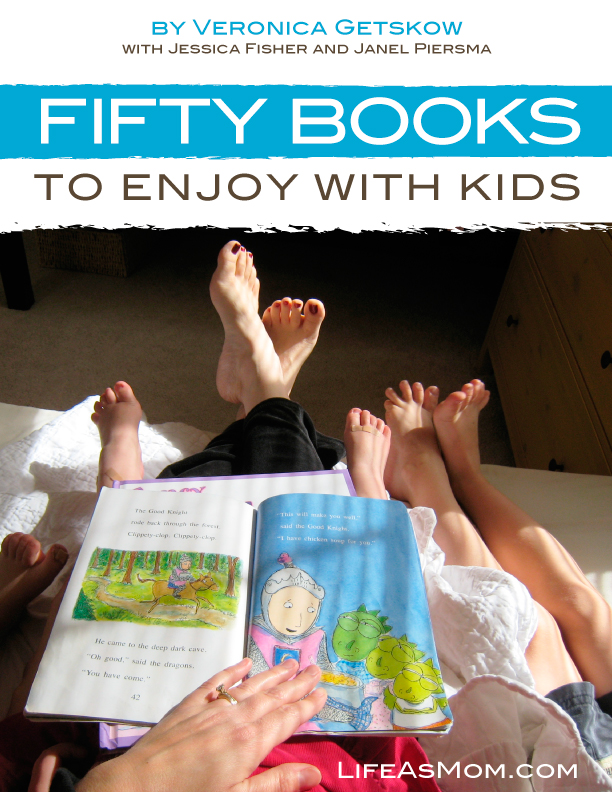 It's called Fifty Books to Enjoy with Kids by Veronica Getskow, PhD. Astute observers will note that we share a name. (Psst. It's my mom!)
My mom is a sharpie. She's done a lot in her years — besides put up with me, that is.
I glanced over her CV over the weekend and went, "WOW. She did all that AND put up with me? The woman is remarkable."
Not only did she raise me and my four younger siblings, but she's made the education of young children her life's work. She has taught kindergarten through college, focusing on training adults in those higher levels to work well with young children.
I always know who to go to when I have questions about preschool issues.
Preschool together
My six children range in age from three to fifteen. When my eldest was just a little guy, I begged my mother to write this book. Neither one of us knew it at the time, but that's basically what I was asking for.
"I want a list of books that we can read and then some fun stuff to do afterward. You know, like in preschool. But not."
Having spent years training early childhood educators, Mom was a little surprised by my simple request. I wanted to take that experience and apply it to the home environment. At the time, there were plenty of resources for the institutional setting, but very few for the family circle.
This is the book I wish I had had a dozen years ago, to which I say, "Better late than never." (You can view a sample here.)
Buy your copy today!
This book is now available in the Life as MOM estore. Written by Veronica Getskow (aka My Mom) together with Janel Piersma and me, Fifty Books to Enjoy with Kids is the book I wish I had had a decade ago when I was just figuring out life with a small child.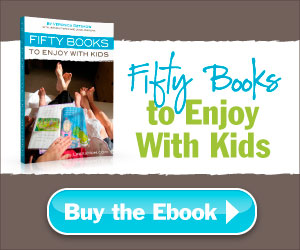 It's a super tool to help you get into books with your children.
This ebook, available in pdf or Kindle, does not include the text of fifty books. Rather it's a reading guide, a road map for exploring fifty "must-reads" for kids.
You'll find all this good stuff inside:
A reading guide of 50 great works of children's literature and a synopsis for each
Links to the World Cat library catalog so parents can easily find the books in their local library
Extension activities, recipes, and/or field trip ideas for each book on the list
Printable reading logs for kids to track their books
Printable book marks in full color as well as blank ones for kids to color themselves
Reading awards for a job well done
Fifty Books to Enjoy with Kids available for purchase here or on Amazon for the introductory price of $5. In two weeks, it will go up to the regular price of $9.