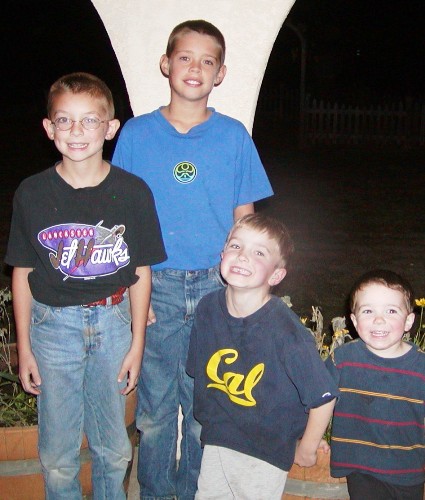 Nathan, Daniel, and the FishBoys – 2003
Years ago, and I do mean, YEARS ago, before the six kids, before the miscarriages, FishPapa, FishBaby, (now FishBoy15), and I moved to the smallish town of Paso Robles, CA. There I made two great friends: Christina and Julie, who walked with me through many hard times, pregnancies, and regular parenting pitfalls. They had boys who became great friends to my boys.
Their boys, Nathan, Daniel, and Evan, are all now "growed up". I'm stunned. Of course, I knew my kid was growing, but I didn't really think about everyone else's kids growing up, too. And have they!
Evan and the FishBoys – 2003
These three young men are embarking on an amazing journey later this summer. They are riding across the country, from Washington to Virginia this summer, raising awareness as well as monies for the Semper Fi fund that benefits wounded marines. What a wonderful way to thank men and women who have sacrificed so much!
Check out their video here:
WE RIDE FOR THE WOUNDED from Several Guys on Vimeo.
I'm so very proud of these guys who I once knew as very little boys. I know which one doesn't like ice cream and who used to bug his mom for cheese toast. 😉
You can follow their journey on Facebook. It might be something your kids would be interested in following, too. If you feel so led, consider donating to the cause.
Disclosure: The boys don't know that I'm posting this or their childhood photos. I haven't been compensated in any way, just want to encourage their efforts to do a good thing.