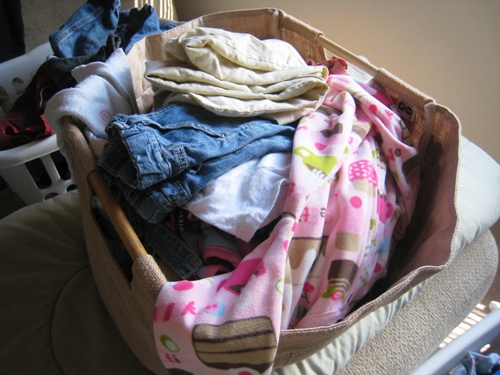 You know the Busy Mom's Motto, right?
Food and clean clothing.
That's all you need. When Life gets to be a little too much and you can't tackle it all, you just shift down into low gear and you focus on giving your family two things: food and clean clothes.
In a dire emergency, you can simplify even more. Food doesn't need to be too fancy. PB&J can suffice. And clean clothes? Well, clean underwear will do. Just turn that tshirt backwards, inside out, and all ways around until all the clean "sides" have been used.
Now at the same time, this Survival Mode can't last forever. You eventually need to cook something more than sandwiches. There are only 4 sides to a tshirt. Eventually the clothes need to be washed.
I've gone all over the place looking for techniques to help me keep our laundry piles under control. I've come to settle on the following to survive the laundry pile.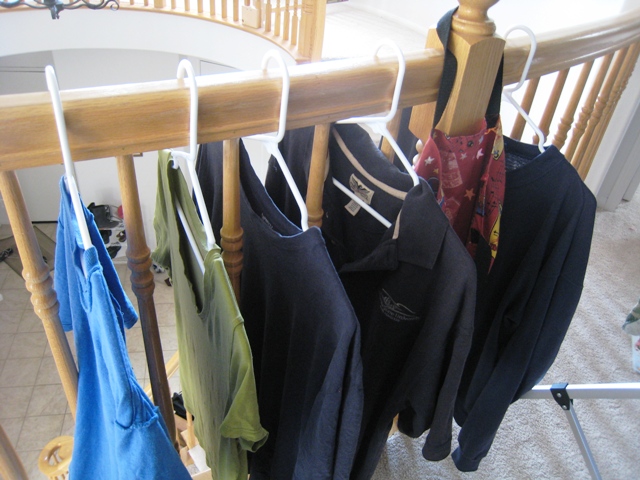 1. Don't sort.
I know, sounds like blasphemy, doesn't it? My mom choked when I told her that I no longer sorted. But, Laura posted the idea over a year ago, and I started following her suggestion just to wash everything together. Yes, really. I am so lazy that I don't even add the 1/2 cup vinegar that she suggests.
So far, none of our clothes have been ruined. Knock on wood.
One disclaimer: I do try to sort out delicates and wash those separately than the rest of the wash. And I do wash towels and sheets apart from the clothing. I wash all the clothes in cold water and wash the towels and sheets in hot.
(Somebody, give my mom some smelling salts. Thanks.)
 2. Wash something every day.
I've tried doing laundry all in one day. I've tried doing it on set days. I've tried it every which way, and concluded that for a family of 8, I just need to wash something every day. At minimum, one load per day gets washed and folded. Sometimes two. If I skip a day, then the laundry becomes unmanageable.

3. Delegate wherever possible.
I have six children, ages 14, 10, 9, 7, 4, and 3. All of them are capable of folding towels and washclothes. Some are even able to fold clothes in a way that still looks presentable. And even a few can "change the laundry," meaning that they move the wet clean clothes to the dryer. And a very few can start a new load.
Believe it or not, my 10-year old is demonstrating mad laundry skilz. I'm not sure where this will take him in life, but I'm quite thankful for his gifting.
There is no law, I repeat, there is no law that says the mother has to do all the laundry. In fact, your kids should learn how to do this themselves. Your sons and daughters-in-law, not to mention college roommates, will thank you.
Choose a Laundry Super Hero
From October 11th through October 24th, you can visit Woolite's Facebook page to vote for your favorite Washing Savior and be entered into a sweepstakes for the chance to win one of 5 $200 American Express gift cards. You can vote once per day and each vote counts as an entry into the sweepstakes.
Personally, I liked the League of Woolite Warriors. But check them all out and see which super hero is YOUR favorite. Plus, you just might win some cash for participating!
Win a Prize Pack from Woolite!
Woolite is giving three Life as Mom readers a laundry prize pack, that includes:
full Woolite product suite (Woolite Extra Delicates Care, Woolite Complete, and Woolite Extra Dark Care)
a lingerie bag with different compartments (great for intimates and your small baby items)
a scented Yankee Candle
a compartmentalized laundry basket that makes laundry separating easier
To Enter:

Leave a comment telling us YOUR favorite laundry survival tip.

For an extra entry, "like" Life as Mom and Woolite on Facebook and come back here to leave a second comment, telling me you did so.
This giveaway will be open until Sunday, October 23, 2011 at 8 pm PST. Winner will be chosen at random and notified via email. Please respond within 48 hours to claim your prize.   This giveaway is now closed. Congrats to the winners: lamteam@,  dgigandet@, mommastaci33@
Disclosure: I received a laundry prize pack from Woolite.