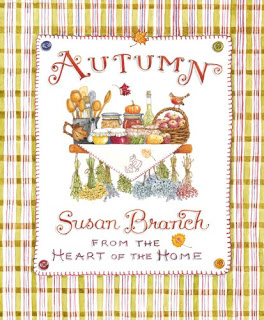 For the past sixteen years I've been a great admirer of Susan Branch's work and cookbooks. I have collected her books over the years, and the pages of Heart of the Home, Vineyard Seasons, Christmas from the Heart of the Home, and The Summer Book are well stained and dogeared, as all good cookbooks should be. Not only are the books beautiful to look at, but they feature some fantastic recipes. (Some are even posted online.) Our family has regularly feasted on Lemon Chicken for special occasions, Annie Hall's Butter Cookies at the holidays, and Grilled Shark with Peach Salsa for June birthdays.
While I am just an itty-bitty drop in her bucket of fans, she stands out to me as one of my favorite people to admire from afar. She even answered a "fan letter" of mine a few years ago. How fun is that to receive a illustrated notecard from the artist herself? Having met her at a book signing once, I can vouch that she is as charming in person as she is on paper.
The good people at Susan Branch Studios recently sent me a copy of Autumn to review. It is just as fun as her previous books. Inspired by the colors of Fall, the water colors in this book are as restful as they are whimsical. I always wonder if I would like Martha's Vineyard in real life as much as I like Susan Branch's artwork.
This book is the perfect handbook for autumn entertaining as it includes recipes, decoration ideas, and all sorts of tips for hostesses and moms with kids to entertain. Susan is the oldest of EIGHT KIDS, so she knows what family management is all about. Her lightheart and "happy gene," as she calls it, is evident throughout her work. One can't browse her books without absorbing some of her joie de vivre. You can follow Susan Branch on twitter or on facebook.
This book, as with the others in the Susan Branch collection, get the FishMama Stamp of Approval.
Since this is Freezer Cooking Week, the FishKids and I are going to be experimenting with some of the recipes in Autumn, including Indian Shuck Corn, Touchdown Chili, and Homemade Marshmallows with Hot Cocoa. Yum! Tune in tomorrow at LifeasMOM for the live-blog edition of this made-ahead experience. More details are here.
Disclosure: I received a complimentary copy of this book. However, my opinions are in no way changed by this. I was not asked or required to write a review.
Encouraged by what you've read? Subscribe to LifeasMOM by email or in a reader and join me on the Road to Joyful Motherhood.