Celebrating family and friendship is a great way to observe Valentine's Day. And it doesn't have to be "all mushy" as long as there are sweet treats and fun entertainment.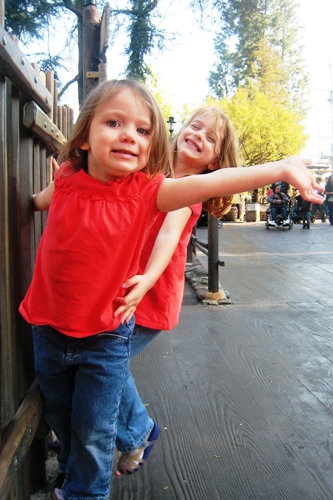 Tomorrow is Valentine's Day. And while I don't think it's a "must-do" kind of holiday, it can certainly be a fun one. I have fond memories of my mom adding special little touches to our day. It might have been as simple as a box of conversation hearts waiting at the breakfast table or as fancy as a little gold heart charm to wear on a necklace to school that day.
There are some sweet — and easy — gifts that you can pull off for your peeps. Even today.
1. Bake a sweet treat.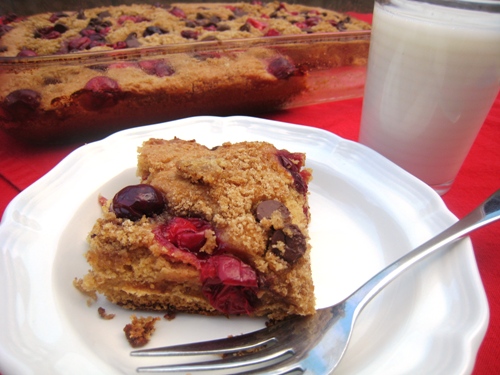 Your typical kitchen holds the makings of some simple, but tasty desserts. Flour, butter, sugar, and some spices are all you need to bake someone happy. This past weekend I whipped up this Cranberry Chocolate Snack Cake that we love. It was devoured in a matter of minutes.
Consider other options like these:

2. Read some fun books.
(Head's up! If you make a purchase through the following Amazon links, I do make a small percentage of the sale.)
We received Guess How Much I Love You as a gift when FishBoy14 was just a baby. Our board book is now very tattered and torn. This story is a precious recount of a baby bunny and his dad out-loving one another with the catch phrase being, "I love you all the way to the moon and back."
Other favorite "love-ly" books include:
The Runaway Bunny – a bunny threatens to run away, but Mama knows how to outsmart him — out of love
Corduroy – a stuffed bear finally finds a home and a friend to love
God Gave Us Love – we just received a review copy of the board book version of this. What a cute tale! Grampa Bear explains different kinds of love to Little Cub, illustrating the beauty of God giving us the blessings of loving and being loved.
Make a run for the library or scan your own collection to see what books you can browse together. Even though "the day" is tomorrow, check your local book store or even Target or Walmart for these selections and similar ones. Often they have Valentine's themed displays and good prices to match. They might even be discounted in a couple days.
Your kids won't care if you read stories together on the 14th or the 17th, so don't sweat it if it doesn't happen tomorrow. But spend some time reading stories and talking together.
3. Download their favorite songs.
As I mentioned in this post, our kids have some very favorite songs that they love to listen to in the car or while doing their jobs or just hanging out. I added them to our family video and we have a family playlist to go along. This past weekend we gave the girls The Tangled Soundtrack. Little Miss Three just danced about the room, singing and laughing and leaping.
Downloading a few of your kids favorite songs isn't super expensive or difficult to do. It's usually about a dollar a song, making a short little playlist fairly economical. And they are so much fun! Dance with your kids!

4. Watch a good movie.
We are movie people. I understand that not everyone is. But, we enjoy watching movies together as a family. Inevitably, the storylines pop up in everyday life.
Just the other day I was talking to one of the boys about how it's good to do the right thing even if you don't "win." We talked about how sometimes "nice guys finish last" and how that's okay, because in God's economy, they win. He said, "You mean like in Cars when McQueen helped that old car across the finish line even though he was last?"
Yes, exactly.
Some of our favorites about love and friendship include:
5. Win a good movie.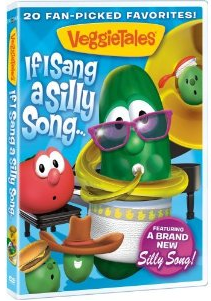 So, I'm a big believer in watching movies together and seeing how they teach. We recently received a set of Veggie Tales videos to review. Seeing as my kids have been singing Silly Songs incessantly from an ancient CD over the last few weeks, it seemed like a perfect fit for them. And it was.
They love both the DVDs we received: God Loves You Very Much and If I Sang a Silly Song. They are silly and fun and give food for thought when we're not watching the movie.
This week Big Idea has two copies of each video to give away to Life as MOM readers!
While the winners won't have the DVD for Valentine's Day, it should make for a fun movie night a few weeks from now.
To Enter:

Simply fill out this form with your name, mailing address, and email contact.

THIS GIVEAWAY IS NOW CLOSED. CONGRATS TO THE WINNERS: angelasyater@, dancindeedee@, iluvdirt06@, ajnewton@
Please note this information is being gathered solely for administrative purposes to send the winners their DVDs. This information will not be given out, sold, or otherwise shared with any other sources.
This promotion is open until Sunday, February 19th, at 8 pm PST and is limited to US residents, 18 years or older. Friends and family of Jessica Fisher and Life as Mom are ineligible for entry. The winners will be chosen randomly and notified via email. Please respond within 48 hours to claim your prize. This post will be updated with the beginning of the winner's email addresses. The prize for this promotion is provided by and shipped by Big Idea and/or its representatives. Jessica Fisher and Life as MOM will not be held responsible for unclaimed or undelivered prizes.
Disclosure: I received review copies of the videos and book referenced above. This post does contain affiliate links. However, all opinions are my own. I would tell you about these resources, anyway.
Got big plans tomorrow?