Tackling the Living Areas (Zone Defense)
As an Amazon Associate I earn from qualifying purchases. For more details, please see our disclosure policy.
This year we're back on Zone Defense, tackling clutter and getting our homes more in order. This month, we set our sights on the living areas.
I have lived in six different homes in my almost nineteen years of marriage. A couple were short-term rentals, but each of the others was a place we wanted to set down roots.
I found that with each year, if I put in the effort, I could mold and shape the house to better serve our needs as a family. We figured out how each home's configuration was suited for different activities and made adjustments.
Usually around the five year mark, once things got "perfect", we up and moved. That's how I think of it, of course, as I look at old pictures of homes that we gussied up right before selling. I sometimes wonder if they really were "perfect".
As we approach the end of four years in our current home, I've got my fingers crossed that we won't be going anywhere once we get it "perfect" — if such a thing actually exists.
I designed the Zone defense series to help me (and anyone else who wanted to join me) reduce the clutter that perpetuated itself in my home as well as have a set time in the year to focus on each area and make improvements. This is our second time through the activities, and I'm always so thankful when I've accomplished one. I am still smiling over my laundry room.
I want to smile over this room: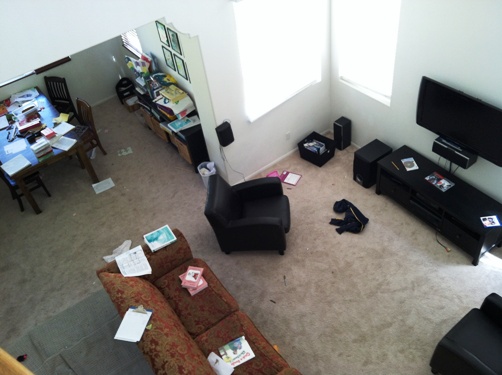 This month we're tackling the living areas and entertainment storage. Here's the game plan, adapted and improved from last year's assignment:
Declutter the entryway by thinning out shoes and coats. What really needs to be there?
Clean out the coat closet/cubbies/dressers in the foyer.
Sweep and mop the entryway floor.
Remove general clutter from living areas.
Dust furniture in living and family rooms.
Vacuum couches and chairs. Yes, under the cushions, too.
Clean the light fixtures. Yes, really.
Replace burned out light bulbs.
Rearrange/straighten books on the shelves. Can you thin your collection? Consider these storage ideas for books.
Does the entertainment center need dejunking? Can you organize movies, games, and music in a better way?
Vacuum baseboards.
Wipe fingerprints from walls and light switches.
Add some fresh flowers or other decorative touch to brighten up your everyday.
Ours is a very lived in home. We have six kids, ranging in age from four to fifteen. We learn and work at home instead of leaving every day for an outside school or job.
That means messes happen.
I've identified a few trouble areas that keep us constantly tidying. It's frustrating. So, I'm going to spend some time this month working on these particulars. And because I'm a real person, I'm including the corresponding pictures (Yikes!).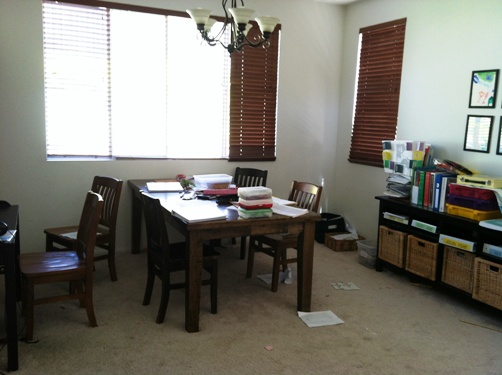 1. Books and School Papers
While each child has his own cubby to store his school things in, it seems that the school table is perpectually a mess. That makes it hard to do actual work. So we spread out all over the house, leaving math books and history papers in our wake.
I'm going to be giving the school room an overhaul and see what I can do to make it easier for all of us.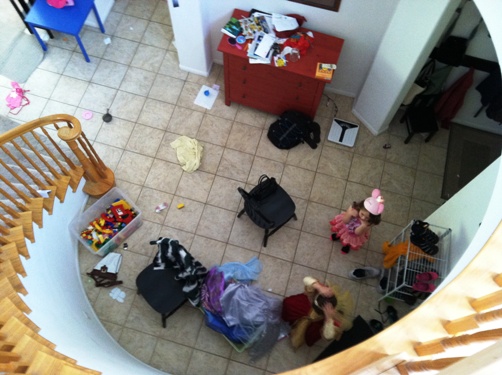 2. Toys and Play Things
My girls, the youngest in the tribe, are 4 and 6. It seems like our youngest is the chief perpetrator of messes. I know this because the day she was sick and slept all day, the house stayed clean.
While I don't want to curb her play time and imagination, I also don't want to trail in her wake all day, cleaning things up. As cute as it was, the play cupboard under the stairs did not work. The girls didn't keep that area tidy and so the messes spilled out into the hallway and beyond.
We've been practicing "the one toy gets cleaned up before another comes out" rule, but somehow we're missing some random pieces that get left behind and contribute to the general clutter.
We successfully tackled the Laundry Beast, I bet we can beat the Toy Monster, too.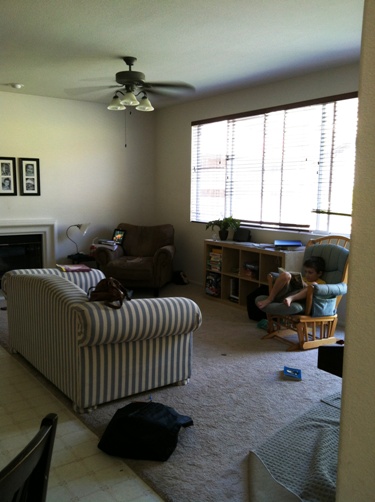 3. Boring Decor
In our first house, we devoted cash and credit to remodeling the home. Same with the second house we owned. Now that we rent, we're only responsible for maintenance, not home improvements. But, that leaves us with a rather boring house.
The flipside of not constantly remodeling, though, is that there could be room in the budget for new furniture. Most of what we owned in the first two homes were hand-me-downs from random friends and family. Nothing coordinated.
I want to follow Jules' lead and add some beauty to our house. I'm not very gifted that way, creatively or financially. But I want our house to be a little bit prettier.
I don't have the time, creativity, or inclination to troll the thrift stores. It's just NOT something I enjoy. But, I'm also not going to spend a lot of money, so we'll see what happens.
And honestly? A clean and tidy house is more desirable to me than pinworthy furnishings. I want us to enjoy time together rather than constantly cleaning!
My teenage son said the other day that we'd have a "perfectly happy home" if it were tidier. I know it's not as bad as some homes, but we've got that general clutter that we need to whip back into shape.
So, there you have it. I've got my game plan, and hopefully you do, too. If you have many living areas and feel too overwhelmed to tackle it all, just choose one problem spot.
We'll huddle up again at the end of the month and swap stats.
Ready, set, hike!