Take a Deep Breath, Mama
We are a participant in the Amazon Services LLC Associates Program, an affiliate advertising program designed to provide a means for us to earn fees by linking to Amazon.com and affiliated sites. We participate in other affiliate programs as well. For more details, please see our disclosure policy.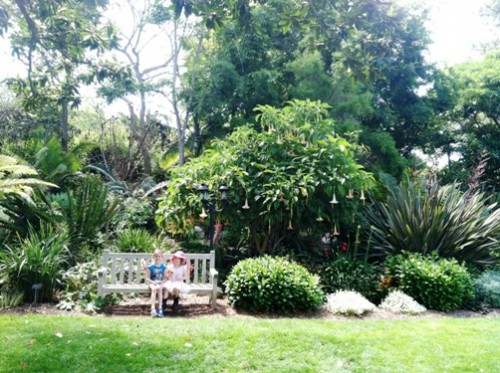 The last few days have seemed amazingly full. My to do list has continual scratchings and carry overs to the next day. I can't seem to catch up.
At the same time, I've done things that I wouldn't normally do under these swampish conditions, namely take my kids on outings.
On Tuesday we met FishPapa at the San Diego Botanical Gardens. It was beautiful, full of trees and plants that I only thought existed in the imaginations of men like Seuss and Disney. It was a beautiful day, and admission was free. We slathered on the sunscreen and headed out. FishChick4 cried as we left.
On Wednesday we met a new friend at the pool. My girls and hers splashed and splashed while we chatted. A couple hours later I herded home wet and tired, yet contented kids. And I was all the better for the adult conversation.
It's okay to step back  from the to-do list. You probably already know this. I have to be reminded.
There's a place for stirring yourself to activity and exerting a little effort. And there's a place to take a deep breath and soak it in.
May we have eyes to see the difference this summer.