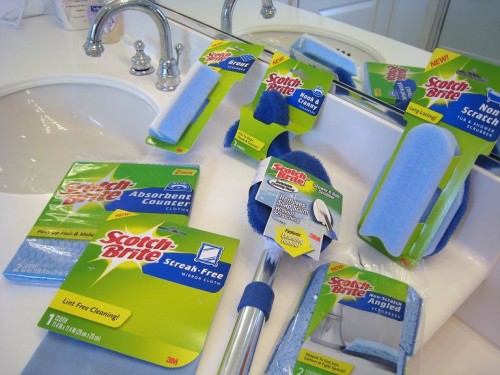 Recently Scotch-Brite contacted me to see if I would be willing to give their bathroom cleaning tools a trial run. Well, seeing as I am Bathroom-Cleaning Challenged, I said, "Absolutely."
I need all the help I can get!
Up until this point, I had been extremely resistant to purchasing any cleaning tools. My arsenal was limited to some random cleaners that I've purchased over time and paper towels or rags with the occasional retired kitchen sponge thrown in for good measure. But since I really hate cleaning bathrooms, I was happy to try out a few new bathroom cleaning tools and hopefully get some renewed motivation.
Honestly, some of these tools have me wowed. I especially liked the Non-Scratch Angled Scrubber, the Streak-Free Mirror Cloth, and the Absorbent Counter Cloth.
The scrubber really did do what it promised, get that grime out from around the fixtures and behind the faucet.
I was able to wash my mirrors simply with vinegar and the mirror cloth, and they just shined. Gonna get me another one, though. I guess we have too many bathrooms and the cloth was wet before I finished my bathrooms.
The counter cloth is good for a number of surfaces besides counters and picks up hair like nobody's business. I hate wiping around the toilets where all that dust just wants to stick. This cloth made it super easy to clean. And to give it a comparison test, I cleaned the next bathroom with regular cleaning rags and these blue guys were the clear winners. I have it on my list to pick up a few more counter cloths so that I can have some strictly for counters and some for cleaning the toilet base and floors. (I don't like
I really don't like spending money on cleaning, but I know that the right tools really can make your work pleasurable.
Would you like to win a set of the new Scotch-Brite Bathroom Solutions tools?
Tell us your biggest cleaning challenge in the comments section below.
Giveaway will be open until 8 pm, PST on Sunday, May 2nd. Winner to be chosen at random.
Disclosure: I received the above cleaning tools for review purposes but was not compensated to review them or to post this giveaway. My opinions are my own.