Taking Care of Your Personal Space (Zone Defense)
As an Amazon Associate I earn from qualifying purchases. For more details, please see our disclosure policy.
If you allow clutter to take a foot hold, you will lose out. It may cost you money, time, emotional well being, or something that was just special to you. Time to get in the game.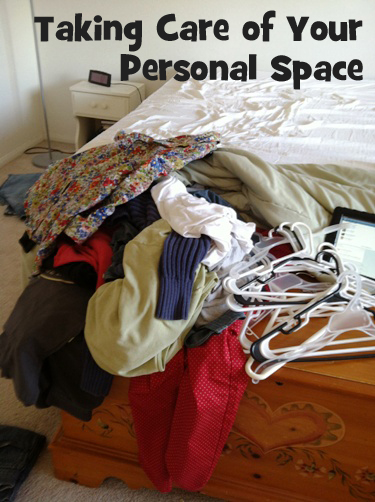 I blame the cold weather of winter. Lately I have not wanted to get up early or tackle many of my regular "must-do" items to keep life shipshape. I've let things slide a bit over the last few weeks and months.
While I had the best intentions of addressing the first play in Zone Defense last month, I just didn't get around to it. Until this past weekend.
Earlier in the week I cracked the whip (just figuratively, mind you) so that we got our house back in shape after days of letting things go. Yes, we'd hit the reset button not too long ago, but apparently, there was a faulty connection. We did some reevaluating, made some more changes to how we store toys, and gave our laundry system an overhaul.
With the house a little more under control and a new laundry program in effect, I set about putting my personal space in order. Maybe that should have been first, but the more pressing need of whole house order took precedence.
Taking Care of Your Personal Space
By personal space, I mean my room. We talked about this last year, as I identified several key areas that if organized and tidy will help keep mama happy.
And that's very important, you know. To keep mamas happy. 😉
On Saturday, we had an amazing break in the cooler weather with one warm 80 degree day. The kids played outside almost all day except for when I held them accountable to chores, changing sheets, etc.
In turn, I focused on our bedroom, finally putting away laundry, hanging up the massive pile of clothing rejects that I had let fall in the closet, and cleaning out and reorganizing my bathroom drawers and cupboards.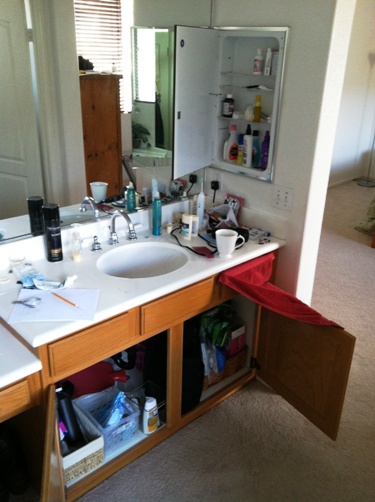 My room felt like Spring had come, especially with the blinds open, blue skies and sunshine peeking in.
It was an almost perfect experience, except that in cleaning out the drawers I discovered a theft. I have four special pieces of jewelry that I received when the boys were little. I earmarked one to give to each of their wives someday. The storage box had been opened, two of the pieces were scattered in the drawer among the costume jewelry and the other two are currently missing.
We discovered a theft a few months ago of some petty cash. That job was clearly a young child. This one appears to be as well. Perhaps the same child? We don't know.
For a number of reasons, I don't believe my own kids took the money or the jewelry. The storage areas were left in such a way that it had to be a child. It was clearly not an adult. Who, I don't know. Neither do I have suspicions. The "stuff" is not worth wrongly accusing anyone, my own child or anyone else's.
So I mourn the loss of two sentimental, though not hugely expensive, pieces of jewelry with little hope of recovery.
Talk about disruption in your personal space.
It's an odd thing. There are so few "possessions" that I really care about. Kinda makes me wonder what's gone missing that I don't care about. Ha!
When I set about caring for my personal space, I didn't expect that I'd end up feeling sad. But, as a friend said, "It is just stuff." My daughters-in-law would probably appreciate getting to pick something rather than have their MIL force something on them anyway, right?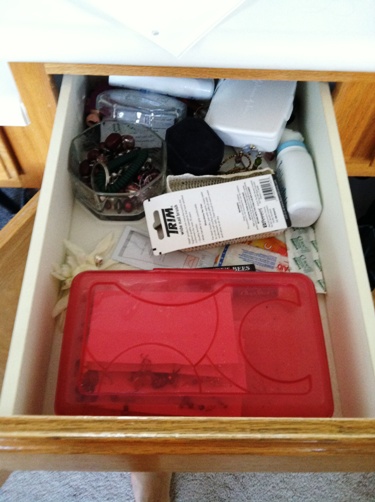 I don't go in that drawer often, so I have no way to know when the jewelry might have disappeared. But, if I hadn't let the drawer get so messy, if I hadn't ignored the mess for so long, I might have discovered the theft sooner and maybe had a chance of recovery.
Note to self: if something looks like it's been ransacked, it just might have been! Maybe you should keep it cleaner.
It's kind of like when you don't look at your bills too closely or don't balance your checkbook regularly. You can easily miss a mistake and end up paying for it. Lesson learned!
If you allow clutter to take a foot hold, you will lose out.
It may cost you money, time, emotional well being, or something that was just special to you. Time to get in the game.
I've been sitting on the sidelines but I'm ready to tackle clutter. Are you? If you haven't reviewed the plays already, see the Zone Defense play book here. Want the specific steps to taking care of your personal space?
Check out these past posts:
Your Purse, Car, and Other Personal Space
Your Body
Are you ready to get in the game?
What's one thing you can do this week to care for your personal space?