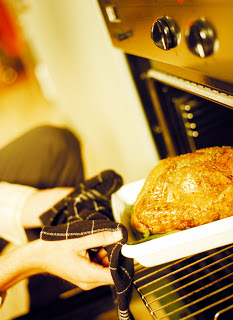 A few months back I bought an extra turkey to throw in the freezer. It was five bucks, so I figured it was a good investment. Usually when I do this, I feel obligated to fix a turkey dinner with all the trimmings. And that had been my original plan when I pulled it out last week. But, one thing led to another and my plan changed.
Instead I cooked it early in the day. And then while chatting with a friend who was visiting, I proceeded to carve it and pull all the meat from the bones. We had turkey sandwiches that night while watching the Chargers beat the Colts. (Yahoo! as they say around here.) That evening I made turkey broth from the bones.
The next night we had White Chili, made with turkey and some of the broth.
The next night? Turkey Tortilla Casserole and Mexican Rice (made with some of the drippings.)
Last night? Turkey Pot Pie.
That one 15-pound turkey produced four meals for a lot of people (our 7 plus company that first night) as well as four cups of turkey stock to pop in the freezer. Amazing! And all for five bucks!
Getting your turkey cooked? It works for me.
For other great ideas that could work for you, too, visit Rocks in My Dryer every Wednesday.