Taming the Toys
We are a participant in the Amazon Services LLC Associates Program, an affiliate advertising program designed to provide a means for us to earn fees by linking to Amazon.com and affiliated sites. We participate in other affiliate programs as well. For more details, please see our disclosure policy.
Then he slithered and slunk, with a smile most unpleasant,
Around the whole room, and he took every present!
Pop guns! And bicycles! Roller skates! Drums!
Checkerboards! Tricycles! Popcorn! And plums!
And he stuffed them in bags. Then the Grinch, very nimbly,
Stuffed all the bags, one by one, up the chimney!
— Dr. Seuss
The Grinch didn't love Christmas. And he certainly didn't love the idea of children playing happily with new toys on Christmas morning.
We moms, of course, are different. We love the holiday and we love to bless our children with new toys. Until December 26th rolls around and the toys are in one big, heaping mess!
Case in point: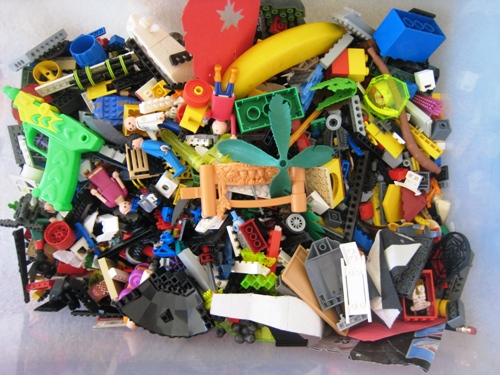 Christmas is coming. And we best get prepared. Or we are going to have one big heaping mess on our hands. And there's no quicker way to turn Mama into the Grinch than that.
At our house, I must confess, the Toy Monster is just barely reigned in. Just barely.
We have an entire garage (single car, of course) lined with shelves holding toys, books, and school supplies. We've got large, clear Sterilite boxes for Playmobil, for Lego, for Duplo, for train pieces, for dress-up. We've got a system.
But quite frankly, the system doesn't seem to be working.
There, I said it.
When the toys are all gathered in the garage, I'm safe. But, my kids don't really get to play and use their imaginations. When the toys are in the house, it seems that the place is crawling with bricks and baby dolls.
I think part of the problem may be that there are six children of varying ages and ranges of interest playing in this house. The two year old and the teenager are not going to play with the same items, so we have a wide range of toys and playthings. But, truly, I just may go insane.
So, help a girl out.
What do YOU do to tame the toy mess at your house?