Wondering what a good price is for groceries? Here are some target sale prices to look for.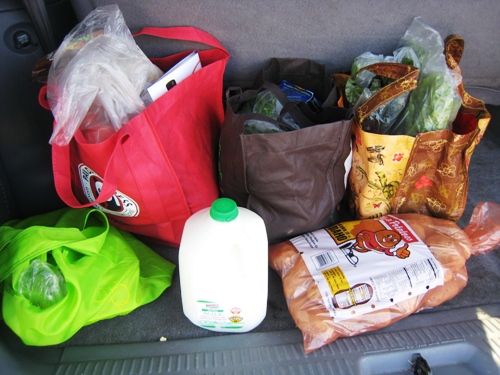 Earlier this week I shared an update on how we "eat well and spend less" at our house. My target is $800/month for our family of eight for groceries that we eat at home. (We have a separate eating out budget.)
One thing that I forgot to mention were my target prices. I've never been one to keep a physical price book. The prices are in my head. This is quite helpful since I usually have my head with me when I shop.
This is not helpful for my husband, though. If I wrote these prices down, then he'd know a great deal when he saw it as well.
Target prices are helpful to you because you can put our grocery budget into a better frame of reference for yourself. What individual items cost obviously has a direct impact on the final total.
Target prices for groceries
Here are the "targets" that I shoot for when shopping on a budget. I stock up when I see these prices or lower. And yes, these are actual prices that I've seen at my local stores within the last six to nine months. I mention the "healthy" part (ie hormone-free, GMO-free, organic) of what I typically buy so you can compare. I would be paying less if I bought conventional:
Bone-in chicken: $0.99/pound
Whole chickens: $0.69/pound
Boneless, skinless chicken breast or tenders: $1.97/pound
Cuts of beef: $2.99/pound
Cuts of pork: $1.99/pound
Hormone-free milk: $2.50/gallon
Hormone-free butter: $3/pound
Hormone-free cheese: $3.50 to $4/pound
GMO-free cereal and crackers: $1.99/box
GMO, soy-free whole wheat bread: $1.99/loaf
Fruit (usually organic): $1/pound
You can find out more about my real life shopping trips over at Good Cheap Eats' weekly Grocery Geek posts.

This week the Eat Well, Spend Less crowd shared updates on how we shop and eat. Did you catch them all? Check out these links to see how these moms from California, Colorado, Michigan, Minnesota, Texas, West Virginia, and Montreal eat well and spend less.
How do YOUR target prices compare to mine?
Tell us! This is Frugal Friday. In an effort to make these weekly financial discussions more interactive, I'm no longer posting a link-up. Feel free to leave a link in the comments. But better yet, chat with us on today's topic.