Are you debating on what to give to your child's teacher? Life as MOM contributor JessieLeigh has some gift ideas that can't be purchased at the store but will be loved by teachers.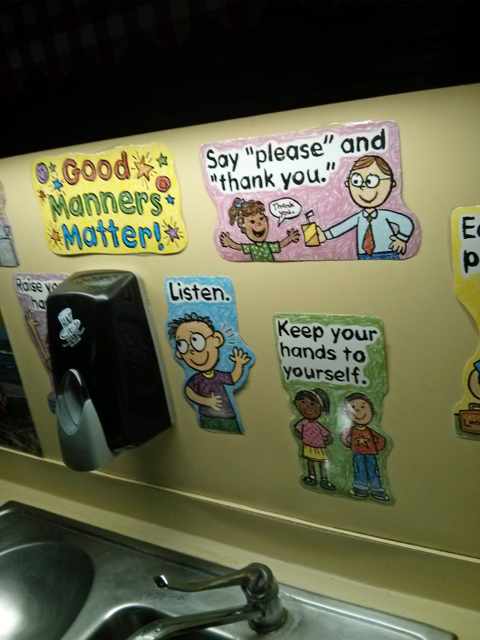 At the holidays, many of us work hard to find ways to show the teachers, therapists, and specialists at our children's schools just how much we appreciate them. This is evidenced by the innumerable lists of gift ideas that circulate the web this time of year.
While advice such as "no mugs" and "nothing with apples" is as prevalent as recommendations for thank-you-notes and gift cards, the reality is that the ideal gift will obviously vary from person to person. This is no surprise — teachers are individuals and, just like all the other people in your life, they have differing tastes and preferences.
If you're looking for a way to let your child's teacher know how much you value them, here's a suggestion that won't cost you a penny:
Volunteer.
Volunteering in your child's school or classroom not only allows you invaluable insight into what's going on there, it also frees up the teacher's time and resources
— and that is most certainly a gift!
Here are a few examples, just to get you thinking. The needs of your particular school and district may differ from mine, but I offer these to illustrate how volunteering can truly be a very appreciated gift and one that doesn't take much time or effort from you.
Shelve some books.
You know how your little one gets to visit school library and check out a book (or two or three) each week? That's really exciting for them and a wonderful opportunity to deepen their love of reading. Well, without proper support staff and volunteers, the school librarian is left with the task of putting all those books back on the shelves.
This is not a hard job, certainly, but it can be time-consuming. By offering up an hour or two a week to put some books on the shelves, you allow your child's librarian to focus on lesson plans and thoughtful choices for read-alouds — both far more important parts of his job, I think we could agree.
Get cutting.
Yesterday, I spent about fifteen minutes in a kindergarten classroom tracing and cutting out twenty beige paper circles. It was simple, mundane work. It also took very little time. Still, the teacher in that room is surrounded by tiny people all day. She doesn't get a fifteen minute, uninterrupted stretch of time to get something like that done.
She was incredibly grateful because, had I not done it, she would have done it at home or during her lunch break. Teachers deserve their time off, too! Honestly, this type of volunteer work could likely even be done in your own home, making it ideal if you have a crazy schedule or babies or toddlers still at home with you.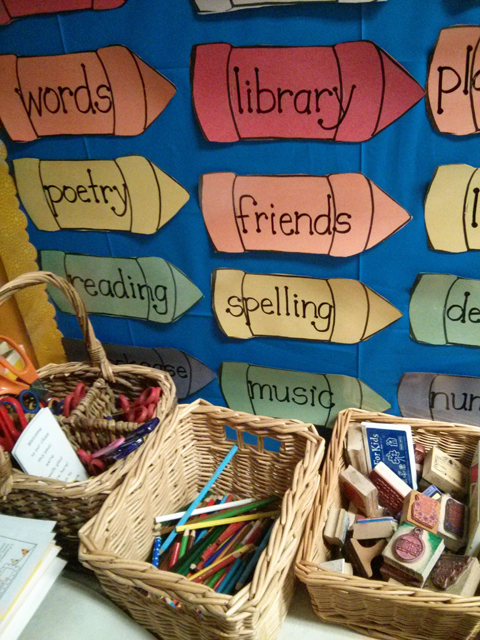 Simply sort.
Have you ever found yourself buying duplicates of something just because you couldn't find the first one you got? Maybe you perpetually have three open jars of oregano or four partial packages of cupcake liners? It happens to most of us, at one point or another. It happens to teachers, too.
The other day, I overheard a first grade teacher lamenting her lack of green tissue paper and saying, "I thought I had some, but I'll run to the store tonight and buy some." I offered to sort through a box and a drawer of random paper for her and, lo and behold, I managed to compile a nice-sized stack of green tissue paper for their wreath project.
Again, this was a simple, almost brainless task that took up precious little of my time, but my doing it meant that the teacher didn't have to stay late digging through papers or spend money out of her own pocket to buy more materials.
Compile or file.
Admittedly, the list of things you'll be allowed to file in a school is probably rather limited. There are strict privacy laws that will prohibit you from handling paperwork containing sensitive information. Still, within your child's classroom, you may be able to help file and organize flyers or notices for the children's mailboxes. You might be able to help remove, hang, and sort artwork.
Many of these are tasks that you could accomplish in five minutes at the start or end of the day. That might sound like nothing, but those minutes add up!
On the flip side of filing is compiling. Many classrooms receive in-class mini-magazines (such as Time for Kids) that need to be separated and stacked before being distributed. Copies need to be organized and matched. These jobs, too, are very quick, but offering five or ten minutes to tackle them even once or twice a week could be a real blessing for a teacher at your school.
Being a regular classroom volunteer is a wonderful way to be involved and give back to your school, but, even if you can't make that kind of commitment, you can still make a valuable contribution just by offering five or ten minutes here and there. Most teachers don't ask for help with these tasks but you can free up a little of their time and resources just by saying, "Listen, I have ten minutes to spare after dropping Lindsay off every Tuesday– let me know if there is anything I can sort, cut, organize, or compile for you."
And time? Is a gift most of us would love to have more of.
How to do you show appreciation to those who work with your children?
Christmas and Public School: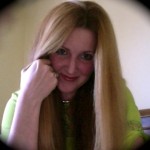 – A mother of three, including a 24 week preemie, JessieLeigh is a determined advocate for even the tiniest of babies. She can be found celebrating life's (sometimes unexpected) miracles and blessings at Parenting Miracles.
You can read all of Jessie Leigh's posts for Life as MOM here.