Thoughts on Teaching High School at Home
As an Amazon Associate I earn from qualifying purchases. For more details, please see our disclosure policy.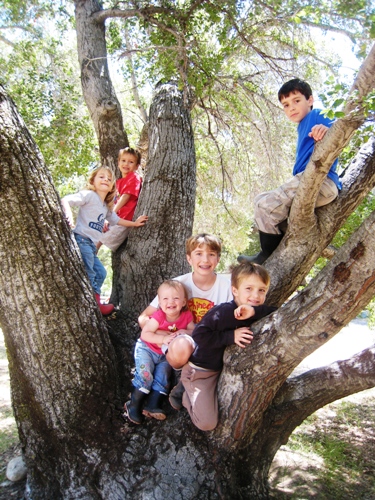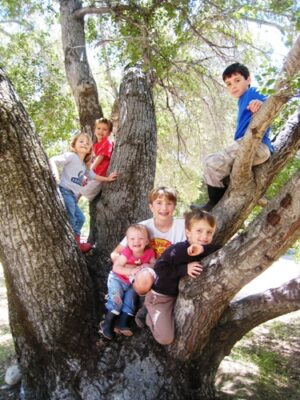 I've been teaching my kids at home for nine years now. When FishBoy13 was born, I quit my job at a California high school, intent on being home with my children, however many there would be. FishPapa and I had it in our minds to teach them at home, in part because of what I had experienced as a high school teacher.
I was 23 when I got the job, only 5 or 6 years older than some of my students. And the crazy thing is that some of the parents asked me for parenting advice.
As if! And the crazier thing is that some of my peers thought they knew how to advise the parents. In fact, some of them even thought they knew better.
I'm so sick and tired of hearing what the parents want us to teach their kids. Why do we have to listen to them?
She was 25, a young, pretty blond English teacher. Most of the teenage boys thought she was hot. She was stunning alright, by her attitude. And it was her words that made us consider homeschooling. I wasn't yet a mom, but that attitude rubbed me wrong.
I know there are many, many wonderful teachers out there who do not exude such an arrogant attitude. And I thank you, because I know that you sacrifice — a lot. Yours is a really hard job, especially when parents come to you for advice on more than academics.
But, having grown up in a teacher home and having been a teacher myself, I spent enough time behind the staff room door to know that it's not an uncommon attitude. I did not want my hopes for my kids to fall on deaf ears. We decided that we would investigate homeschooling. If I was good enough to teach other people's kids, surely I could teach my own.

A Beginning
When my oldest was two, I read through Recovering the Lost Tools of Learning by Douglas Wilson. This gave me the resolve that home education was for us. Reading The Well-Trained Mind gave me the confidence that we could do it for the long haul.
(If you haven't read The Well-Trained Mind, it's a great read whether you embrace homeschooling or not. The author, Susan Wise Bauer was homeschooled back in a day when it was quite unusual. She is brilliant in many ways — and her explanations of homeschooling and afterschooling are extremely helpful.)
That was where I got my start in home education. And I've been figuring it out as I go along. When I started, the internet was still powered by squirrels in a cage, and there were not half the resources available that there are today. It's changed a ton since our beginning.
If you're thinking about taking the plunge, read this post on getting started in homeschooling.
Rich Beyond My Wildest Dreams
The last nine years have been unbelievably rich. My eldest, turning 14 next month, has learned to read, to tie his shoes, and to do algebra. The experiment is working!
Plus, he is a caring, young man, who helps his sisters cross the street, lifts heavy objects for me, and doesn't beat up on his brothers — too much.
I can't take much credit for this. I think God blessed us with a great kid and He has been at work in him. But, it's been an extreme privilege to take this hands-on approach to his education and his development.

What about high school?
While home high school has always been part of The Plan, I think it's good for us to reevaluate our plans and make sure that a decade-old decision is still the best one. This past winter and spring we've investigated local private and charter schools, and decided that a home high school is still the best choice for us. So we're pressing on.
We are entering uncharted waters, but I'm looking forward to the journey. My teaching is taking a little different turn now as I approach High School. In some ways, it should be old hat. This is what my college training was for, after all.
Here are some new wrinkles in my approach:
Consulting the college requirements
We plan to follow the general course of study that a prospective college would require for admissions. Even though that is three years away from now, I want to make sure that he is learning the things that colleges expect and building an appropriate transcript.
In our case, we are consulting what the University of California and California State University systems look for in college applicants. I found this slide presentation from a UC Riverside professor to be particularly helpful in considering the admissions process. I am on the hunt for more ideas.
(If you live in Texas, check out this high school plan that my friend Joy put together.)
Getting student input
In addition to looking toward college entrance requirements, I'm also consulting more with my son about what he would like to study and how. While I've often asked the kids for input over the years, I'm looking more to him to make more decisions in high school. He would be doing much of the same in a more traditional setting, and in fact, gets a little more freedom as he'll get to choose some of the books, something you don't get to do in public high school.
He's old enough to know what style of resource (computer, book, or video) helps him most. He's old enough to decide which foreign language he wants to pursue. And though Spanish is a more practical language for living just an hour north of the California-Mexico border, his French-major mother let him choose. He chose Latin! Go figure…. He's old enough to be making more decisions about his education.
Being open to supplementation
Home education has become more mainstream since the day we started this journey. And as such, there are more opportunities and choices for a rich learning environment in a home setting than there were ten years ago. There are more options for online classes as well as private classes locally. It's not uncommon for high school students to also take community college courses.
So I'm trying to keep my eyes and ears open to things that will further enhance my high school student's learning experience as well as give him exposure to different educational contexts.
Expecting mistakes
Despite my best intentions and my educational training, I'm reminding myself that I'm not going to do this perfectly. There will be plenty of mistakes to make, I'm sure. And so, I'm trying to adjust my expectations of myself as a teacher and as a mom.
Focusing on relationships
One of our most compelling reasons to home school all this while has been to invest deeply in relationships with our kids. This becomes all the more important as we enter the high school years. While I tend to be academically oriented, I've had to remember that how we communicate and interact with one another is more important than covering every chapter in the history book.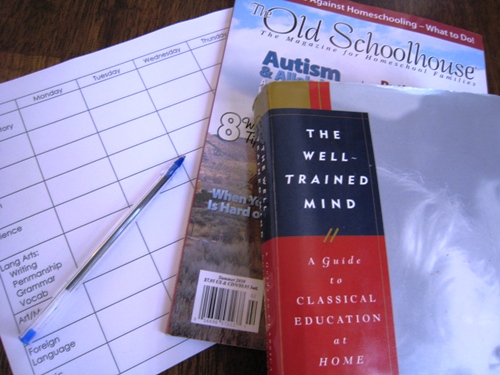 The Plan for 9th Grade
At the moment our high school curriculum looks like this:
Science: Apologia Science for High School – Biology
Composition & Grammar: Excellence in Writing – Fix It (grammar) and the Student Writing Intensive C (composition)
Foreign Language: Latin (most likely, First Form)
Math: Algebra 1 (possibly Chalk Dust)
History & Literature: Tapestry of Grace – Year 1
Electives: Not Yet Determined, possibly supplemented from the outside
What's been YOUR experience?
Homeschool Mamas, I'd love to hear how you have approached high school at home. See ya in the comments!