This post is sponsored by the M.O.M. Method, a new Web-based parenting tool that empowers kids with time and task management skills: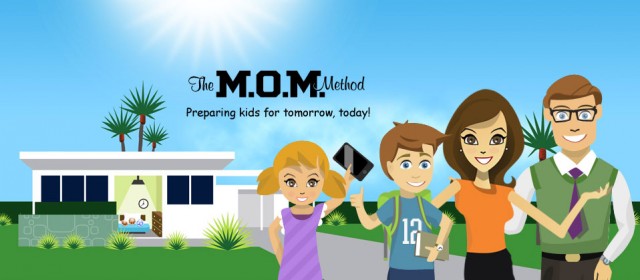 Life is full of things to do. Many of those things are great things: reading good books, learning a new skill, and spending time with one another.
Life is also full of not so great things, some of which feel, act, and look like chores. Your chores may not be the same as mine. I love to cook, so that's typically not a "chore". Washing dishes, on the other hand? Total chore.
There's no doubt that our lives include good and not-so-good, both of which require our time and attention. That we have responsibilities and appointments to keep is no surprise. That we should develop good habits in both and pass those onto our kids? Well, that can be a challenge.
We've talked a fair amount about getting ourselves organized and setting up "work control" systems that suit our personalities and families. I'm a firm believer in finding systems and tweaking them according to the season of life.
Since my husband works as a project manager we deal with the language of "work control" at our house a lot. It's a businessy word that basically refers to getting things done and meeting deadlines and responsibilities. We have these at home and in the work place. Our kids have deadlines and responsibilities in school and at home, and someday, Lord willing, those will translate to the work place as well.
As parents we get the opportunity to teach our kids to meet deadlines and responsibilities, to do their chores and schoolwork in a timely manner. But, sometimes we need help beyond our own imaginations.
The M.O.M. Method
The M.O.M. (Manage Organize Myself) Method is a new Web-based parenting tool that empowers kids with time and task management skills. It's basically a work control system designed with kids, aged 6 to 12, in mind. The program aims to teach kids to understand exactly how much time routine tasks take so they can learn to plan accordingly. This smooths the way for everything a kid needs to do to get done —from getting ready for school to completing homework and household chores.
This method is mashup of a chore chart and a calendar, delivered in a techy way, that goes beyond the basic checklist to teach kids about task management in a more meaningful way by introducing the element of time. How long will something take to do? How do I need to plan for this accordingly?
This video does a great job explaining it:
The M.O.M. Method includes:
Time Management – A child's responsibilities are presented within the context of time — teaching kids to gauge and manage time for all the things they do.
Task Management – Unique schedules and parenting methodology is provided to help children to understand their responsibilities and when they need to be met, covering everything from from personal care/hygiene to homework to household chores.
Calendaring – Calendars for the week and month are designed just for kids, offering a guide and visual reminder so kids know what to expect each day so they are totally prepared and ready for action.
Point System – Designed to motivate children and help them understand the connection between their effort and the positive results it produces, a point system is included.
Reporting – Through reports parents can see trends in task performance, so they can make adjustments to suit each children's schedules and responsibilities.
Planning Tool – a proprietary online planning wizard helps children learn the steps involved in short- term planning, from identifying what needs to get done to working backward and estimating time requirements
Communication Tools – Worksheets and contracts are provided to help parents and children communicate effectively and work as a team instead of struggling for power.
Mobile App – Convenient access (via iPhone/iPad) to checklists, tools and resources when on the go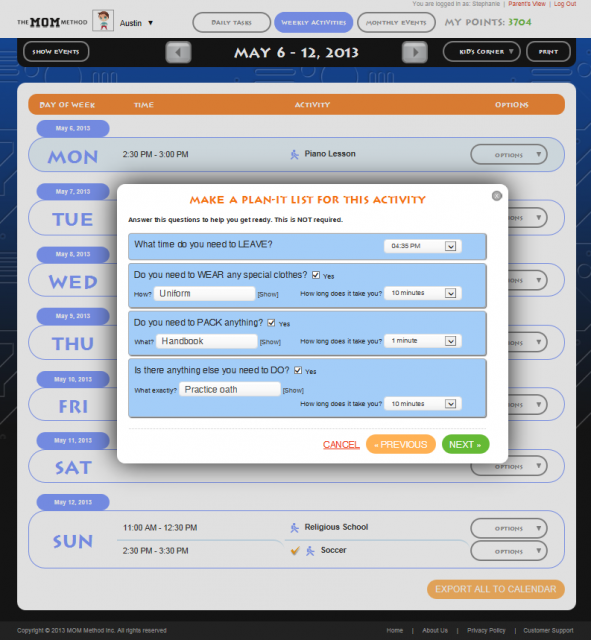 We adults have plenty of apps to help us navigate our daily responsibilities. Of course it makes sense that there would be a tool to help kids make their way through the day as well. The program was designed by Stephanie Katleman, a mom who realized that her son relied on her to direct his every step. She knew she was doing him no favors. I think she's got a great grasp of what kids and parents need to make the daily routines go well.
"Many kids have a hard time making the transition back to school after summer break, but a structured family game plan is the best way to ensure success," she says. "Kids thrive on structure and routine. Shifting the responsibility for managing that routine from parent to child mitigates the power struggles, enhances the overall family dynamic and teaches invaluable, long-term life skills."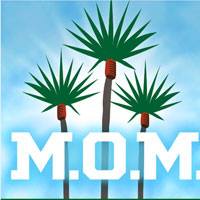 You can sign up for the M.O.M. Method for a free 30-day trial. Follow them on facebook and twitter as well for great tips and reminders on preparing kids for the real world.
Do YOU have a practice at home that works in teaching your kids time management?
Disclosure: I have been compensated for my time spent writing. All opinions are my own.