TGIF: 3 Great Family Flicks
We are a participant in the Amazon Services LLC Associates Program, an affiliate advertising program designed to provide a means for us to earn fees by linking to Amazon.com and affiliated sites. We participate in other affiliate programs as well. For more details, please see our disclosure policy.
One of the things that we love to do as a family is watch a movie. Provided that the kids don't choose Davy Crockett for the 512th time, FishPapa and I really enjoy cuddling with our little ones, watching a flick together. Some of the sweetest times are listening to our children's laughter and seeing their expressions of enjoyment.
This summer, we checked out quite a few new movies from the library as well as took advantage of the free movie showings at our local Edwards Theatre. Three movies stood out as exceptionally good surprises for me.
Space Chimps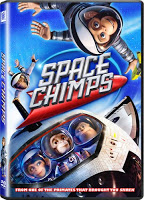 Space Chimps tells the story of a wise-guy monkey who gets sent into space on an important mission. The grandson of a great Space Monkey Hero, he is a major goof-up and refuses to take much of anything seriously. But, his strength is tested while out in space.
The one-liners are hilarious and there are enough references to cultural literacy that adults will be thoroughly entertained.
Horton Hears a Who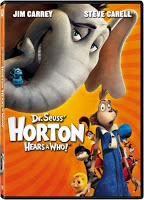 Horton Hears a Who I like Dr. Seuss well enough, but I'm no fanatic. I like the Cat in the Hat and Green Eggs and Ham, but, to tell the truth, I'm just not that choked up about some of his other books. Honestly, I saw this movie because it was free. But, I was very pleasantly surprised.
The message was sound, and of course, Jim Carrey and Steve Carell are great. I did see some mixed implications re: the uptight, homeschooling kangaroo who is against the pro-life message. I didn't get that. But, overall, the movie was way better than I expected. Way.
Bedtime Stories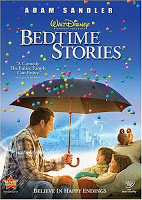 Bedtime Stories was absolutely fantastic! We laughed so hard at this movie. Adam Sandler has come a long way from his obscenity laden comedy of the 90s. His humor is still there, but in a way to entertain all audiences. We thoroughly enjoyed this movie about Skeeter the hotel handyman who battles the forces of evil to save his job, his niece and nephew's school, and get the girl. In fact, it's probably one I would buy. And that is saying a lot.
Movie night with my peeps is one of the finer parts of my week. Usually on Friday nights, it follows our homemade pizza and is usually accompanied by some fun snacks. It's a great way for us to start our weekend.
To be inspired by more great things in life, visit Amy's Finer Things.
How about you? Have you found a surprisingly good family film? Do tell!