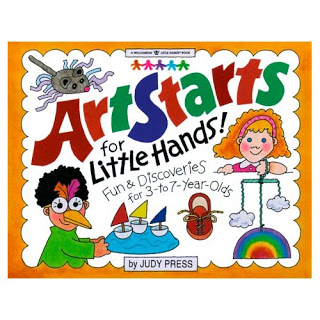 Friday nights are a great time to do something relaxing and creative with the family. Sometimes you might choose to veg in front of a movie, but a planned craft or art project can be really fun as well.
If you are a mom of young children and haven't seen the Little Hands series of books, run, don't walk, to your nearest library or book store and check them out. These are great books!
Published by Williamson Books, these bright and colorful volumes are teaming with great crafts and art projects to do with kids. The Little Hands titles include The Little Hands Big Fun Craft Book and Little Hands Paper Plate Crafts. The books are made of thick paper and sturdy bindings, so that even though they are paperback, they can hold up to some abuse from little hands. The illustrations are fun to look at and easy to follow.
They also put out a great line of resources for bigger kids as well, called Kids Can! One that I hope to explore with the bigger FishBoys later this summer is called Making Amazing Art! 40 Activities Using the 7 Elements of Art Design.
Recently, I had a chance to examine, Art Starts for Little Hands: Fun and Discoveries for 3 to 7 Year Olds. Written by Judy Press, it is filled with fun, theme-based projects that help teach shapes, colors, and letters. Since I have children ages 1, 4, 5,7 1/2, and 10, this book covers a wide-breadth of my brood.
We tackled one of the projects yesterday, and I've got some words to the wise for making art projects successful. (I wasn't very wise, so this falls under the Don't-Do-as-I-Just-Did category.)
Keep within the suggested age range. I assumed my older boys would just play along. Instead they got bored and "poisoned the well" so to speak with their younger brother. He might have enjoyed it for hours had it not been for their overriding opinions. Likewise my 18-month old wasn't quite up to speed on this one. An interesting alternative would have been to assign one of the bigger boys to playing with her and appoint the other big boy to help the two artists.
Cover your table with a junky tablecloth. Silly me thought newspaper was enough of a covering for my table. It isn't. The paint was washable, but it would have been so much nicer just to fold up a tablecloth and not think about it. You can bet the next time I'm at the dollar store, I'll be snatching up a cheap tablecloth for art projects. (How long have I been a mother???)
Let your child(ren) flip through the book and choose a project. Since we didn't have paper plates (one of the common supplies in this book), our choices were a little limited. So, I chose the project. I think everyone would have been much more engaged if they had a little more "ownership."
Don't give up! After all the paint on the floor and bored big kids, I was tempted to say, "Forget it!" But, I remembered how patient my own mother was. (She was a kindergarten teacher, of course she was patient!) Maybe my learning curve for this is a little different. But, I have great memories of art projects. So, I just need to adjust to the personalities and ages God has given me — mine included. It's a beautiful world out there, and God has given us opportunities to make beauty at home. So, I'm going to persevere, try again, and go buy a tablecloth!