TGIF: Get on Board!
We are a participant in the Amazon Services LLC Associates Program, an affiliate advertising program designed to provide a means for us to earn fees by linking to Amazon.com and affiliated sites. We participate in other affiliate programs as well. For more details, please see our disclosure policy.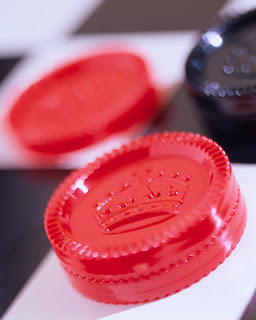 Ever since we were dating, FishPapa and I have loved to play cards and board games. Back then, in the early 90s, it was often a duel at Trivial Pursuit. Usually, he had me whooped from his knowledge of history (he is older than me) and sports.
Every once in awhile, though, I would have a coup with the literature questions or those wonderful cooking questions that won me an orange pie.
Just so you know, orange was his bag: sports. But, the actual category is "sports and leisure," so from time to time I would score big on questions like, "What dessert is made with lady fingers and coffee liqueur?" Just when he was expecting that I'd get floored by something like, "Who hit the winning home run in the 1956 World Series?" tiramisu would come to my rescue.
Yeah, those were the days.
Anyway, our love of board games still lives on. It just a little trickier with small toddler hands, babies, and chokable pieces. Often, one gets to play a game with the big boys while the other runs interference with the littles.
Some of our family's favorites include Blokus, Mancala, Blink, and Skip Bo.
What's your favorite game to play as a family?