TGIF: Get Outside!
We are a participant in the Amazon Services LLC Associates Program, an affiliate advertising program designed to provide a means for us to earn fees by linking to Amazon.com and affiliated sites. We participate in other affiliate programs as well. For more details, please see our disclosure policy.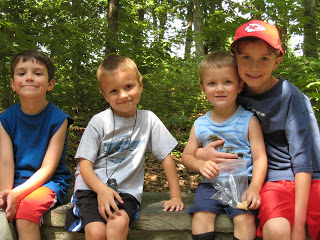 One of the aspects of my life that the Lord surprised me with over the last few years is the fact that I have four boys! By the time the third arrived, I realized that my house would always be loud, my toilets would always be messy, and wrestling, though begun in fun, would always end in someone's tears.
I love my boys with a fierce Mama bear love and wouldn't trade them or their rambunctiousness for anything. That said, I am someone who craves peace and quiet. Hmm, where do those two things intersect?
One way that we've found to accommodate their energy levels and my desire for low noise levels is to get the fam outside. Lately we've headed to the beach in the late afternoons. They run, jump, swim, scream, and holler. I sit with the baby and constantly count heads. The trip home is amazingly quiet, and, as you might guess, everyone sleeps really well at night.
Now, you may not be located so close to the surf, but there are other places to explore. Consider your local nature center, botanical gardens, lake, river, or simply the park down the street. Fall is an excellent season to get outside in most places. And Friday afternoon and evening can be a great time of the week to take advantage of fair weather and free time. Pack a picnic dinner, grab some jackets to ward off the evening's chill and get out in the Great Outdoors with your family!
What's your family's favorite outdoor adventure? Share it with us in the comments.