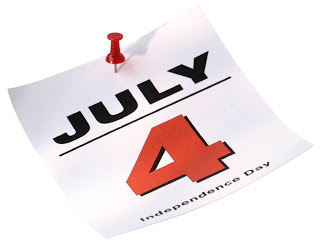 Thanks to everyone who shared their celebratory plans for Independence Day! You can go here and here for some last minute inspiration.
Have a wonderful day today! May the bugs be few, the BBQ tender, and the fireworks exceptional. As you head out for all the fun doings that the Fourth of July holds, don't forget to remember those who've gone before us to secure the freedoms that we enjoy in this country. No, it's not a perfect place. But, even the freedom to gripe or question things has been secured by those who were willing to put their lives on the line for a greater good and future.
To those men and women in the Armed Services, thank you for all you do to keep our freedoms ours. God Bless You!
And since the ER doctors will be working overtime today, please don't forget a few safety tips:
from the National Council of Fireworks Safety
Kids-specific recommendations from Kids Health
A host of tips regarding summer food safety and specific Fourth of July safety