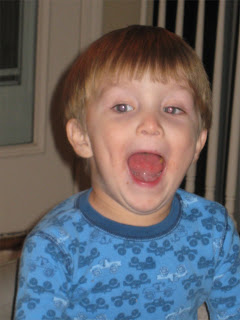 I don't know where I first read about having a "pow-wow" with your kids. But, it stuck with me. And though it's a little corny, it helps to open lines of communication.
Ever since the first FishBoy could talk, our bedtime routine has involved discussing the best and worst parts of his day. You probably already do this. A "pow-wow" is no different. The "pow" is the hit you might have taken during the day; the "wow" is the really cool thing that happened. It's a great little nomiker for the end-of-the-day debriefing.
I am not as faithful with this ritual as I want to be, but I know that my kids look forward to this "tucking in" time. FishBoy12 consistently troops back downstairs to ask me to "come say good night" if I forget. It's a wonderful way to wind down the day.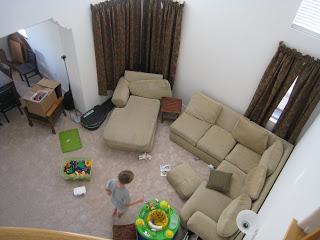 On a side note, we survived our move. Here are the pows and wows of our experience:
POW: T-Mobile is our cell carrier by which we make all our long distance calls as well as how FishPapa and I communicate during the day. We have ZERO reception at our home. I put in a service request on Saturday and the results have not been acceptable. So far, they say we need to upgrade in order to get service. Um, no thank you. That wasn't part of the contract I signed. So, we wait for a second service request to go through.
POW: It was impossible to sign in for internet at Starbucks. Not sure what was going on, but between an energetic two year-old drinking her "coffee" and unhelpful Starbucks people, it just wasn't happening.
WOW: Chick-Fil-A rocks on the free wi-fi scene, and the staff there were ultra-accomodating and helpful to get me online when I needed to do some house stuff via the internet.
POW: The previous tenants had their own server and thereby customized all the phone jacks, leaving us without phone and internet connectivity. See previous POW to realize my utter frustration to be home with SIX KIDS without any way to connect to the outside world.
WOW: Mr AT&T stayed late last night to take care of our phone jack issues. He went above and beyond the call of duty to take care of us. If we ever are able to separate ourselves from T-Mobile, AT&T will be the first one I call for new cell service.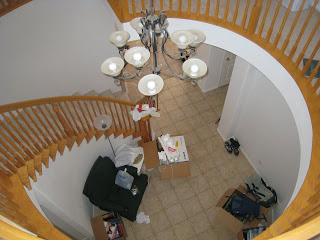 POW: Packing up our old house was like the Twelve Days of Christmas. The stuff seemed never-ending. Time to do some serious downsizing. Especially since there was a typo in the document I read about the house. It is 3007 square feet instead of 3700. It's still plenty big, just not as HUGE as I thought.
WOW: Without my two beefy brothers to help with all the physical lifting and moving of aforementioned stuff, it would have been really difficult.
POW: We didn't do the best job including our kids in the process. We felt disconnected from them for two days while we tried to make sense of two houses and all that stuff.
WOW: My parents came down and watched and played with the kids and treated us to take-out so no one had to cook. My sister Jamie also came and helped clean, pack, and entertain children. Plus, she hosted a fine Chick-Fil-A luncheon.
POW: It was hard last night to watch FishBoy5 fight back tears when he said, "I liked our old house."
WOW: We had a great talk about Jesus and being together as a family. He asked great questions. Five is SO much fun!
There are more things I could write about, like the smell that smells like gas in the laundry room, but according to our gas leak detector test, it is not gas. Pray that we don't explode.
Overall, we're fine. Things aren't as "rosy" as I had envisioned, but we're thankful to be in a nice, warm home with more than enough.
What are the pow-wows of your week?