TGIF: Let Daddy Do It
We are a participant in the Amazon Services LLC Associates Program, an affiliate advertising program designed to provide a means for us to earn fees by linking to Amazon.com and affiliated sites. We participate in other affiliate programs as well. For more details, please see our disclosure policy.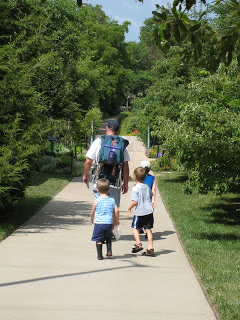 One of my children's greatest entertainments is time spent with their dad. They have all sorts of traditions and rituals, like FBA Meetings, Monkey Treats and the Choosing Game. Of the two of us, my husband is more adventurous. It's a good balance for my kids to have calm, stay-at-home-ishness with me and climb-every-mountain-ness with him.
Dads just do things differently. They play "Run Away Horse." They wrestle. They play video games. They go hiking and biking and fishing.
(OK, maybe some of you ladies do all those things. But, this Mama don't.)
It can be difficult at first for a mom to relinquish her children to the sole care of her husband. I remember being so nervous about letting him take our first baby out to coffee with the guys. But, our pediatrician had said to just let them do guy things. I am glad to have had her advice.
Today I am headed out with FishBaby for an extended time away at the WholeHearted Mother conference. My husband will be flying solo with the five older children. And I know they will have a great time. I am nervous about leaving, but I know the world will go on without me.
So, let Daddy do it.
No, your husband won't do things the way you do. But, it's supposed to be that way. Relax. Let your husband lead the entertainments. Step out of the way when he wants to teach them a new skill. Your family will benefit in ways you can't imagine.
How 'bout it? What do you see that your husband provides that you can't? Let's give thanks that our men are different than us!