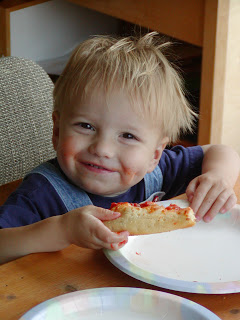 One of the things that our family loves to do is to eat pizza. Personally, my very favorite pizza is served up at the corner of Bouquet and Soledad Canyons in Santa Clarita, CA. However, I live in Kansas City, so I've had to learn to make do without my hometown pizza. When we've got "eating out" money in the budget, we enjoy California Pizza Kitchen. But, since that can't be a weekly indulgence, we often make our own.
Usually, I make the dough myself, using a recipe from the CPK Cookbook. I make a triple batch in the breadmaker. But, you don't have to make your own dough. You could use any bread for a base. The kids love it when I make them small size so that each can add his own toppings. (Here's me and my first FishBoy back when I was young and svelte.)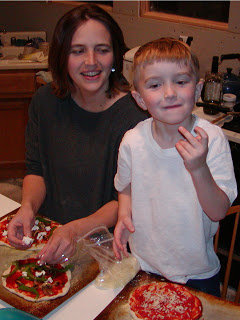 I must confess that I don't do this very often anymore — do you know how many cooks would be in my kitchen??? But, it's definitely worth doing occasionally to make a memory and build camaraderie. So, think about having a DIY Pizza Night this weekend!
Here's some ideas how:
Ingredients (amounts are not specific, just have enough for everyone's tastes)
• Crust: homemade pizza dough, pre-baked pizza shells, such as Boboli; English muffins; tortillas; or French bread, split lengthwise
• Sauce: Any Italian tomato sauce will work, even leftover spaghetti sauce. Experiment until you find the one your crew likes. In a pinch, combine 8 ounces tomato sauce, 6 ounces tomato paste, and 1 teaspoon each of oregano, basil, and garlic powder.
• grated mozzarella, jack, and cheddar cheeses
• sliced pepperoni
• sliced Canadian bacon
• cooked, chopped chicken breast
• cooked, crumbled Italian sausage
• sliced black olives
• diced onions
• chopped tomatoes
• chopped bell pepper
• sliced mushrooms
• diced pineapple
Spread a thin layer of sauce on the base of your choice, sprinkle a little cheese, layer your toppings, and top with more cheese. Bake according to crust directions, or simply bake at 425° for about 10-15 minutes. Keep checking for doneness. A tortilla pizza will take less time than a thick French bread. Serve with a green salad and ranch dressing for dipping.