TGIF: Make a Memory
We are a participant in the Amazon Services LLC Associates Program, an affiliate advertising program designed to provide a means for us to earn fees by linking to Amazon.com and affiliated sites. We participate in other affiliate programs as well. For more details, please see our disclosure policy.
One of the wonderful things about having kids is all the opportunity for memory-making. In our family these occasions might include, but are not limited to:
impromptu (and very silly) songs made by FishPapa. I hope to share some in the near future.
spontaneous donut runs to Krispy Kreme
watching a movie and eating popcorn with lots of butter
FishMama (the Sugar Police) letting them each have a whole can of pop on the Fourth of July
and dressing up like cows so we can get free food at Chick-Fil-A!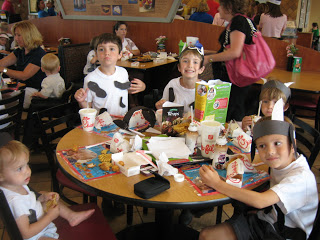 Today we spent an hour or so crafting cow costumes so that we could get free food at Chick-Fil-A. Personally, I don't think their chicken is all that great. And their prices are over the top. But, the fresh-squeezed lemonade and waffle fries are very good. According to this glutton, anyway.
So, we dressed everyone in hats and spots and black and white. The manager gave the nod to all the kids for a free kids' meal. She needed a little arm twisting to give me the go. C'mon – pink udders on my belly? Surely, that qualifies a combo meal. Everyone who had a cow accessory (like a headband?) got a free sandwich, so surely, the pink udders counted for something! In the end, we bagged over $20 of free lunch.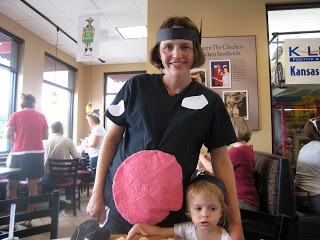 The kids had a great time and scarfed down the food. Even half my wrap and Cana's fries. The only disappointment was that the playplace said it was for children 3 and under. (Is this normal? FishBoy4 was highly disappointed. To say the least.)
How can you make a memory tonight? You don't have to dress up like a cow, though I think my kids will always remember today. Got some ideas? Share them with us in the comments section.