TGIF: Pancake Art
We are a participant in the Amazon Services LLC Associates Program, an affiliate advertising program designed to provide a means for us to earn fees by linking to Amazon.com and affiliated sites. We participate in other affiliate programs as well. For more details, please see our disclosure policy.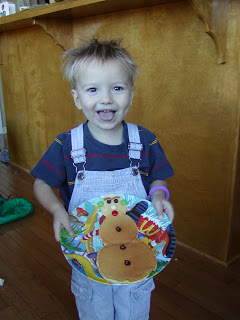 As I mentioned the other day, Pancake Saturday is a family tradition in these here parts. FishPapa instituted it about ten years ago, and every kid (big and small) loves it. Somewhere along the line, "the guys" discovered Nate the Great's pancake recipe. FishPapa scanned it, slipped it into a page protector, and taped it inside the cupboard where we keep the flour and sugar. It's traveled with us now to four homes where it has a place of honor in our kitchen. And that's the recipe that they mix up every Saturday morning. (I have every Sat am off duty!)
And somewhere along the line, FishPapa started creating pancake art. I think we had just finished reading aloud Minn of the Mississippi, the story of a three-legged turtle who makes her way down the river. Low and behold, Saturday morning we feasted on pancakes in the shape of three-legged turtles. And a FishFam tradition was born.
My sweet husband has crafted snowmen, cats, dogs, spiders, turtles, mice, snakes, happy faces, etc. The list goes on. You can do this, too. Just pour the batter in the desired shape. Flip. Embellish with whatever candies, sprinkles, or chocolates that you have on hand. Fruit leather works great for whiskers!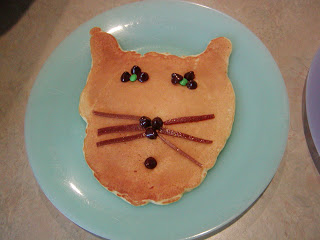 I am a firm believer that FishPapa can do anything! (He is my hero, dontchaknow?) But, he was a little stumped when we gave him the all-time pancake challenge. FishBoy 4 wanted Indian Jones panckes to go with his Indiana Jones Birthday Cake. Papa was able to craft an amazing pancake to go with The Legend of the Crystal Skull. Ta Da!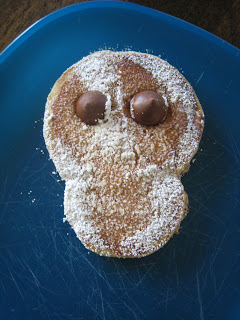 My husband has made great memories with our kids. All it takes is some pancake batter and a litte imagination.
Of course the best part about Pancake Saturday is eating them!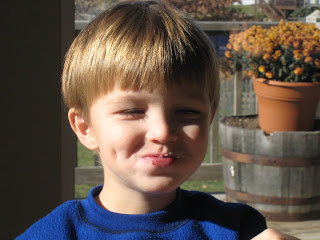 Have you got a fun food tradition at your house? Share it in the comments section.