TGIF: Park It!
We are a participant in the Amazon Services LLC Associates Program, an affiliate advertising program designed to provide a means for us to earn fees by linking to Amazon.com and affiliated sites. We participate in other affiliate programs as well. For more details, please see our disclosure policy.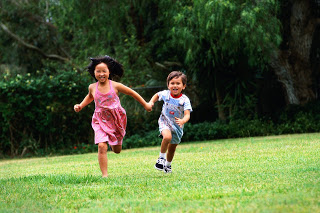 One of the things that we enjoy as a family, that is also a frugal entertainment, is to go to the park. Thankfully, we have one just across the street. With a playground, a sand pit, and a large grassy expanse, it is a great place for the whole family. The littles dig in the sand while the bigger kids throw the football with Papa or simply run around.
Yesterday we went to the home of some new friends for a few hours. They have a park right behind their house, so we headed there with the kids – we had 10 children between us! That's a lot of counting heads. But, it was a great time, especially as the park was empty and the kids could roam freely without disturbing others. They enjoyed climbing the hill, collecting pine cones to take home, and generally running around and exploring.
While we enjoyed temps in the 70s, some parts of the country are chilling out these days. I saw that my cousin welcomed 30 inches of snow today. But, you can still head outside — once the 70 mph winds slow down. Just bundle up real good and take your snow shoes along.
Our culture is becoming such an indoor one. We really have to think creatively as moms and figure out ways to get our kids (and ourselves) off the couch and out of doors.
Do you have a fun park? What things does your family like to do at a park outing? How do you adapt to the changing seasons? Share your ideas in the comments section! I'm always up for a good idea, aren't you?