TGIF: Pattern Blocks
We are a participant in the Amazon Services LLC Associates Program, an affiliate advertising program designed to provide a means for us to earn fees by linking to Amazon.com and affiliated sites. We participate in other affiliate programs as well. For more details, please see our disclosure policy.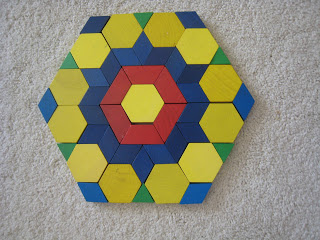 A few months back Gramma Ruthie gave us a big box of wooden pattern blocks. We were familiar with them as we have a small, plastic set for our school. I put them aside, not sure if we would need them.
However, upon move in, the kids flocked to this box and immediately started playing. From lining up the shapes to reenact battles to creating a kaliedescope of designs, they are having a blast. The wooden pieces are much nicer to manipulate than the plastic ones that we use in Math lessons.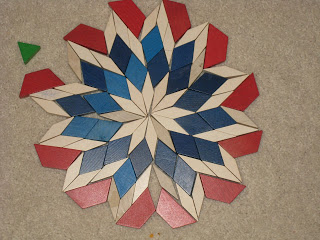 These are such a great manipulative for learning, but they are also proving to be a great resource for family fun. The kids usually make elaborate and colorful designs with them, but having an activity book, like this one, is also great. You can really challenge their thinking by handing them a line drawing to fill in with the different shaped pieces. Fun and educational all in one package. Excellent!