Book Reviews: Read Alouds for Preschoolers
As an Amazon Associate I earn from qualifying purchases. For more details, please see our disclosure policy.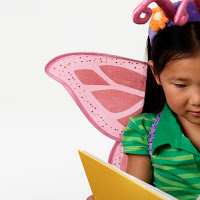 One of the beauties of having SIX KIDS is that I have always had little ones. Yes, it's full of challenges, but the preschool years are such a precious time in a child's life.
Currently, I have two preschoolers: a rough and tumble, four year old boy and a nurturing, knows-how-to-change-GI-Joe's-diaper, two year old girl. They are quite the pair. He is all boy; she is very girl. But, for the most part they are great friends.
When he's not kicking her.
And she's not hitting him with a stick.
One of the things that they both love to do is listen to stories. The two of them could sit with me for hours reading books. I only wish I had hours to devote to the activity. Instead we settle for a handful a day. Here are some of our favorites: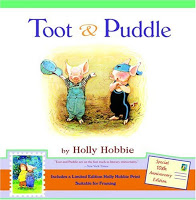 The Toot and Puddle series by Holly Hobbie is a great collection of stories, featuring two pigs who are best friends. One is the brave adventurer, while the other prefers the comforts of home. Much like my FishChick and FishBoy 4! We have enjoyed all the different books in the collection and were pleased to see that one had been made into a movie which we saw at Christmastime.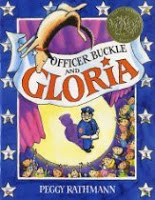 Officer Buckle and Gloria by Peggy Rathman tells the story of a lonely, albeit boring, police officer whose reputation is given a major boost when he starts taking Police Dog Gloria along for Safety Presentations. Little does Officer Buckle know that his dog is miming his safety tips. The dog's antics are hilarious. And the message and lesson that Officer Buckle learns are precious.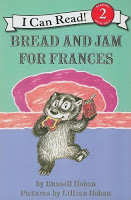 Who can't love Frances? I remember listening to these books by Russell Hoban when I was in preschool. Only then they were on 45 records! Bread and Jam for Frances is probably my favorite. First, I love food and the book is filled with great descriptions. Second, I love the witty way that Frances' mom teaches her a lesson about eating what's placed in front of you. This is a must read for all those who fight the Dinnertime Skirmishes.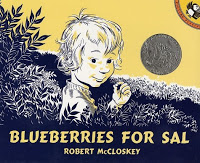 My mother collects Caldecott Award winning books, those children's books that are prized for their illustrations. So, we have been the happy recipients of her library's cast-offs. Blueberries for Sal is one of the keepers. It recounts the tale of Sal and her mother clambering up Blueberry Hill in search of blueberries to can for the winter. Their encounter with bears is told in sweet detail. A great book to read while munching on blueberry muffins.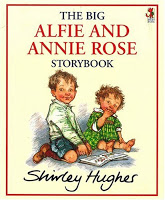 Alfie and Annie Rose are two pink-cheeked cherubs from the British Isles. They are much like my little pair of preschoolers. This series by Shirley Hughes features adorable illustrations and fun stories that little ones can relate to.
What's your favorite book to read to little ones?
Tell us in the comments.
Related: Book It! Story Stretchers
TGIF: Read!