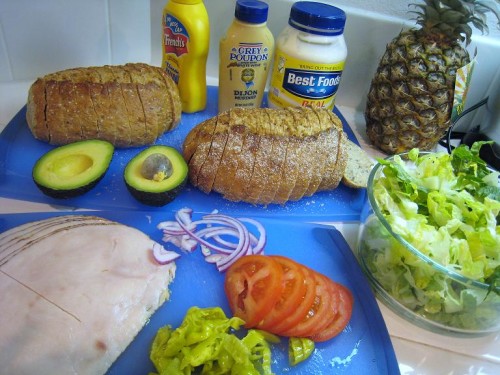 'Twas a full day of library, lunch date with FishPapa and homeschool park day — with a shoe shopping trip thrown in for the kid who left the house with no shoes and we were too far to go home and get them and still be able to do what was planned. I'm beat.
Thankfully, I had the foresight to have pizza night last night so that we could have Sandwich Night tonight. Easy peasy!
And I'm not talking your regular PB&J. Oh no. We love $5 Footlongs with the best of them, but to really feed our family, we need 5 feet of sandwich. Don't love that price tag! So for less than half that we're having a feast: turkey on whole grain artisan bread with fresh avocado, tomatoes, onions, lettuce, and pepperoncinis. And sweet pineapple on the side.
To top it off we have popcorn and a movie in our future.
What are you doing tonight? How do you best usher in the weekend?