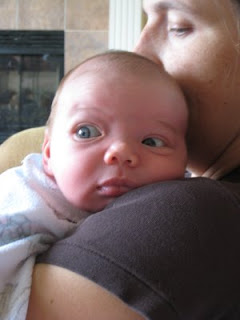 See those beautiful eyes? I thank God that He so swiftly healed my little girl. She is just so precious. I really enjoy her. Wish I could just sit and hold her all day long. Thanks to everyone who prayed for her and for me.
Also thankful for:
Cooler weather and less humidity – a great way to remember KC
My sweet husband
My SIX lovely children
An abundance of moving boxes and packing tape
Good food
Time is marching on a little more swiftly than I would like. The moving trailer will be here on Tuesday! I'm on a mission to pack up one room a day. Today I tackled the baby's room. It's hardly had time to be "the baby's room," and as a result, it still had our filing cabinet (with lots of lovely files to sort) and its closet still held all my scrapbooking supplies, extra toys, and random school stuff not in use. I'm pleased to say that while FishBaby took her afternoon nap(s), I was able to sort and pack it all. One room down.
Thanks to gift certificates from the neighbors, I have the night off from cooking – Hello, Papa Murphy's?
The three wee ones and I have plane tickets booked for next weekend. We will be flying while FishPapa, the bigger three boys, and my youngest brother caravan with our vehicles and most valuable valuables. ABFreight will be handling the rest of our junk.
In other news, it looks like we will have a lovely rental home just two blocks from where my two brothers live. The house backs to open space – rolling hills and chaparral. It is also across the street from the neighborhood park and bike/hiking trails. We're waiting for the final word from the owner – the mgmt. company says we look great. So, we shall see tomorrow if we get the final stamp of approval. (I'm hoping that the owners really are replacing the carpet as we've been led to believe.)
Our rental property here appears to continue as a rental. A good friend who also owns rentals has kindly offered to manage it for us — for free!
Now, all we need to do is sell or rent this house! Your prayers are appreciated.
Thanks for riding these waves with me!