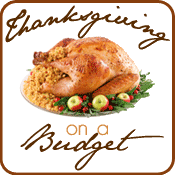 I've known people, in fact, I've been one of them, who spent upward of $200 on one meal – Thanksgiving Dinner. Unbelievable when I think about it, really. To spend one third of our current monthly food budget on one dinner. Yikes!
Usually this happens due to poor planning or too many "we gotta haves" on the menu. I know, I've been there. My dad used to say that my eyes were too big for my stomach. I would always put more on my plate than I could possibly eat. And this holds true when I get to planning a fancy dinner as well as my life. I tend to overcommit. But, no more! Especially where food is concerned. As Ma Ingalls says, "Enough is as good as a feast."
This week I get to partner with a great group of bloggers to bring you tips and tricks for celebrating Thanksgiving on a Budget. Here's the schedule so that you can be sure to visit these great blogs. But, don't worry, I'll remind you every day.
Monday: Pop over and visit Money Saving Mom for our rationale for pinching pennies even at the holidays as well as some great family favorite recipes that won't hurt your wallet.
Tuesday: Amy from Amy's Finer Things will be sharing her secrets for super-tender, stress-free turkey.
Wednesday: I'll be posting some presentation suggestions – simple ways to make your spread look pretty – for cheap.
Thursday: Erin at $5 Dollar Dinners has some delicious (and economical) recipes for Maple Roasted Butternut Squash and Almond-Pecan Pie.
Friday: Monica at The Homespun Heart will share thoughts on thankfulness, decor, and tradition.
Saturday: We'll wind up the week back at Money Saving Mom where Crystal will open it up for you to share your own frugal holiday tips and recipes.
Hope you'll join in the fun and celebrate and save at the same time!