Thanksgiving on a Budget: Presentation Counts!
As an Amazon Associate I earn from qualifying purchases. For more details, please see our disclosure policy.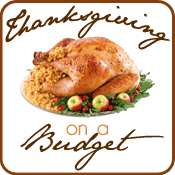 Last year I was both pleasantly surprised and a little dismayed when a popular foodie magazine featured an $80 Thanksgiving Menu. Having read this particularly publication for years and years, I knew that for most of its readership, this was, indeed, a "bargain meal." But having tracked prices for so long, I knew that they were still spending too much on a holiday supper.
While I did appreciate their efforts at curbing their budget and helping their readers, the truth is that for many of us, $80 is meant to feed a family for a week, not just a dinner. We have to find other ways to "wow" our guests than a high total at the checkstand. And that's where a pretty presentation can do wonders for the wow-factor.
A Pretty Presentation
Many moons ago I worked for a small college catering company in an affluent community. There I learned some tricks to taking simple ingredients and turning them into fancy "froo-froo" food. Granted, we did often use more expensive ingredients, but high price was not a prerequisite to good taste or pretty presentation.
Whether you've got extra space in the budget to splurge on Thanksgiving or not, these techniques will help you make any spread a little more special.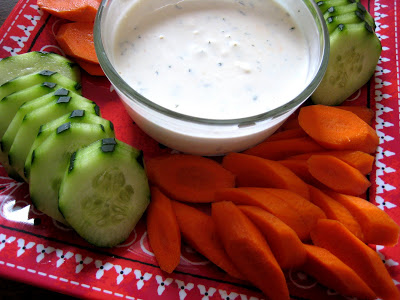 Let's Dish – Gather your serving dishes and trays to access what you've got at your disposal. White and clear glass dishes are best as they will match anything. You can purchase pieces a la carte at Target or Walmart for very little money and at yard sales and thrift stores for even less. With Thanksgiving over a week away, now's the time to see what you have and what you'll need. Don't forget to ask friends and neighbors if you can borrow dishes they might not be using. If you don't have a set of ramekins, hunt some down. They are great for holding sauces, relishes, olives, nuts, citrus wedges, and other condiments.
Go Textile – Likewise, survey your collection of baskets and linens. Cloth tablecloths and napkins can prettify your table as well as your buffet, if you have one. Roll individual flatware sets into napkins and tie with ribbon or twine. This makes for easy serving. Prepare more than you think you'll need. Baskets are great for holding breads as well as your flatware-napkin bundles.
Vary the landscape of your buffet – Use candles, dried flowers, and other fall decorative pieces to embellish your serving and dining tables. Flowers and foliage always add interest and serve as a framework for the best part – the food. Add height by placing sturdy boxes and racks on the table, covering them with table linens. Then place the various dishes on these "risers."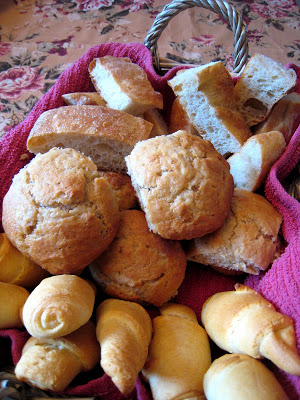 Create an ad-free zone – Remove foods from their original packaging. This may seem like some work, but if a pretty presentation is your goal, setting out a bottle of mustard or dip in its branded packaging is not the way you want to go. Instead, use the aforementioned ramekins to hold your condiments. If you have purchased any convenience items such as cut veggies or bakery items, move them to a tray or napkin-lined basket.
Enjoy simplicity – At Thanksgiving in particular, most people want tradition. They don't want fussy and complicated. Thankfully, those traditional items are usually "loss leaders" at the grocery store this month. Focus on good, wholesome food and you can't go wrong. The time that you save in simplifying your menu can give you a few more minutes to make a varied bread basket or to slice carrots just a little prettier.
Be fresh – use lettuce leaves, citrus slices and fresh herbs to garnish serving trays. A few lemon slices floating in a water pitcher add flavor as well as color. If you're hesitant to spring for pricey fresh herbs, visit your local garden center and see if they have large pots of rosemary or sage. You can keep the plant inside over the winter.
Just desserts – When it's time to dish up the sweets, think about how to make the plate just a little more. Large bowls of freshly whipped cream and gravy boats of chocolate and raspberry sauces will give dessert time a little extra flourish. Consider plating the desserts yourself and adding a little drizzle and a dollop yourself before serving.
Remember pretty is as pretty does. If you can't swing "more" than a tasty meal at or under budget, consider yourself successful. But, if you can spruce up your spread even a little, you'll feel like the hostess with the mostest and your guests will feel pampered.
What do you do to make your big dinner a little prettier? Share your ideas in the comments!