Thanksgiving on a Budget: Very Make-Ahead Turkey
We are a participant in the Amazon Services LLC Associates Program, an affiliate advertising program designed to provide a means for us to earn fees by linking to Amazon.com and affiliated sites. We participate in other affiliate programs as well. For more details, please see our disclosure policy.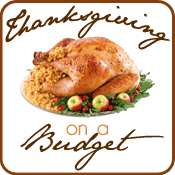 You know that to make the most of your cooked turkey and stretch your budget further, it's best to make stock from the leftovers. However, who wants to mess with that after a full day of cooking?
I think you will be pleasantly surprised when you see this next installment of Thanksgiving on a Budget. Amy's very make ahead turkey is the answer to many a cooking challenge come Turkey Day. You'll wonder why you didn't think of it sooner.
Pop on over to Amy's Finer Things and see all the wisdom she has to share.
in a reader and join me on the Road to Joyful Motherhood.