The Best of "Works for Me Wednesday" is now available in book form! Win a copy this week.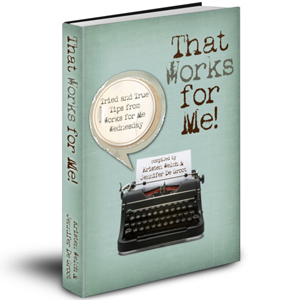 That Works for Me! is a compilation of the best tips and tricks that have been shared over the years at Works for Me Wednesday, hosted by Kristen Welch.
For several years I've had the chance to participate in Works for Me Wednesday, a weekly carnival of tips and tricks to make life easier. Now, the best of Works for Me Wednesday has been compiled into an ebook. Here's what the editors have to say about it:
For more than five years, the blog carnival, Works For Me Wednesday has been a hub of helpful tips for every area of a busy woman's life. Hundreds of bloggers link up every week and thousands of tips have been shared over the past years.

This e-book offers a categorized, organized place for more than 800 practical, "aha!" tips to make your life run smoother. That Works For Me! is a celebration of the WFMW community, with tips from hundreds of different blogs.

It won't organize your linen closets or remove stains, but this e-book will offer you a good place to start. We've searched and compiled and created an organized e-book with 24 popular categories, featuring the best of tips in each group.
And, how fun that a few Life as Mom tips are also a part of the book!
Use the coupon code SAVE1 to save $1 off the purchase price of the book. A portion of every e-book's sale benefits Mercy House.
This week four Life as MOM readers will win a copy of the ebook. To enter, simply fill out this form:
Please note this information is being gathered solely for administrative purposes to send the winners their ebooks. This information will not be given out, sold, or otherwise shared with any other sources.
This promotion is open until Sunday, April 15th, at 8 pm PST and is limited to US residents, 18 years or older. Friends and family of Jessica Fisher and Life as Mom are ineligible for entry. The winners will be chosen randomly and notified via email. Please respond within 48 hours to claim your prize. This post will be updated with the beginning of the winner's email addresses. The prize for this promotion is provided by and shipped by Kristen Welch and/or her representatives. Jessica Fisher and Life as MOM will not be held responsible for unclaimed or undelivered prizes.
This giveaway is now closed. Congrats to the winners: jason.smith007@, jenfitz42@, atkeison@, estrella.azul20@
Disclosure: I received a review copy of the book. All opinions are my own.