An app that tracks when your baby eats, sleeps, and poops? Check this out.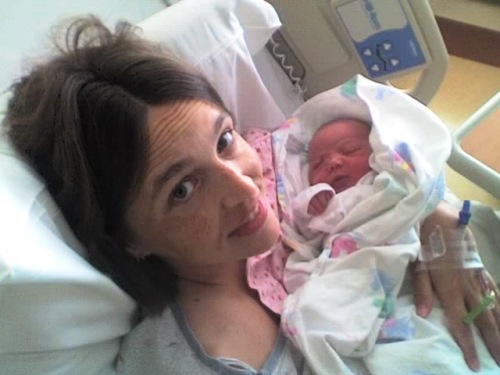 My baby daze has faded. I was thinking this week of the time I lost 20 pounds in 2 minutes. I just shook my head at the memory of Mommy Brain. Oh my!
As I mentioned earlier this week, my last little one is going to be four next month. FOUR. I'm stunned. I just carried her up to bed after her having fallen asleep on our big teddy bear floor pillow. She's outgrown nap — yet, every once in a while, she's just too pooped to party.
And she still looks like a baby — at least when she's sleeping.
Baby Daze
While I am no longer nursing a wee one, I remember those early days, especially when a child's birthday approaches. As I look at baby pictures, it all comes back to me about tracking wet diapers, clocking feedings, and otherwise keeping track of a baby's activities, growth, and development.
I never scheduled my kids' naps and feedings; we followed more of an attachment style of parenting. But, in those early months, I remember how important it was to my nerves to know how often the baby was nursing and getting his or her diaper changed.
My mom and I would come up with hasty hand-written charts on scrap paper so that I could remember when I had last fed the baby. And we had a special method of stacking diapers on the changing table to be able to track diaper changes.
If I were having a baby these days — but I'm not, in case you're wondering — I would most certainly download BabyESP. It's an app for iPhone and Android users that lets you track almost everything that concerns a newborn's early weeks and months.
And, yes, I think in my head, "What will they think of next?!"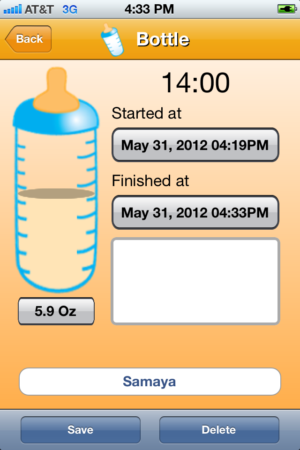 BabyESP allows you to track:
Naps and Night Sleep
Breast Feeding Sessions
Bottles
Diapers
Medicines
Pumping
Growth (Weight, Height, and Head Circumference)
Baths
Multiple children
Any custom activity (even timed ones!) and more
I never had an iPhone when my kids were little. Heck, I didn't have an iPhone four months ago!
But now that I do, I totally understand how this app can play into the "life as MOM." Most moms who have a smart phone keep it close at hand, so you'd have at your virtual fingertips all this important info to keep track of.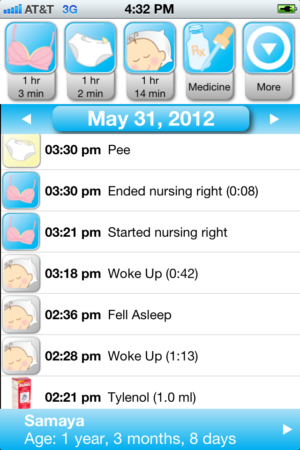 I obviously haven't been able to put it through the paces myself, but I think it's definitely something for you to investigate if you've got a wee one to care for.
This weekend the folks at BabyESP are offering one Life as MOM reader a $25 iTunes giftcard.
THIS GIVEAWAY IS NOW CLOSED. CONGRATS TO THE WINNER: beckylovesreading@
To Enter:
Simply complete the information on this form. Please know that the information is only being gathered for the purposes of mailing you your prize in the event that you are chosen as the winner. This information will not be sold, traded, or given away.
This promotion is open until Sunday, July 22nd, at 8 pm PST and is limited to US residents, 18 years or older. Friends and family of Jessica Fisher and Life as MOM are ineligible for entry. The winner will be chosen randomly. The prize for this promotion is provided by and shipped by BabyESP and/or its representatives. This post will be updated with the beginning of the winner's email address. Jessica Fisher and Life as MOM will not be held responsible for unclaimed or undelivered prizes.
Disclosure: I have been compensated for my time spent writing and administering this giveaway. All opinions are my own. This post does include affiliate links.