The Case for Ebooks
As an Amazon Associate I earn from qualifying purchases. For more details, please see our disclosure policy.
Ebooks can benefit you in a number of ways, including space and expense. This post does include affiliate links. If you make a purchase through those links, I am paid a small amount in way of advertising fees.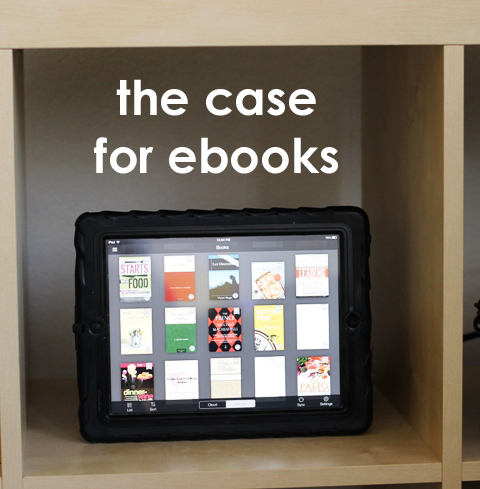 When I first learned about ebooks ten years ago, I was a little skeptical. I already felt that the computer was a major time-suck, why did I want to continue sitting there in order to read a book? I certainly couldn't lug my heavy desktop out to the hammock the way I could a nice paperback. And since files and folders could be so elusive, how would I remember where I put anything?
Well, as you know, a lot has changed in ten years. With the advent of the laptop, iPhone, Kindle, iPad, and other tablets, you can literally carry 100s of books around with you — and they're easy to retrieve and read. Go figure.
What's so good about digital books?
I have always been a bookworm. When I was growing up, my mom would take us to the public library on a Saturday where I would check out ten or twelve books to devour over the week, often in just a day or two. I loved the methodical ritual of signing my name on each library card and hearing the thunk thunk of the date stamp on the card. Technology has changed that, too.
While I love books with real pages and the fantastic memories I have associated with them, I'm warming to the wonderful convenience of the ebook. Here's why:
1. I can get a library book in about ten seconds.
Recently, the San Diego County library system hooked up with Overdrive, a global distributor of digital books. I can find a book with a few clicks of the mouse and then retrieve the book and download it to my kindle or iPad in just a few seconds.
This is great for the voracious readers in our house. While they still love to go to the physical library, this digital process goes much more quickly. Plus, with multiple devices, more than one child can read the same book at the same time — something we can't easily do with hardcovers or paperbacks. No more fighting over whose turn it is to read the book!
Additionally, there are no late fees or transportation costs involved with digital library books. They simply vanish from the device when the loan has expired.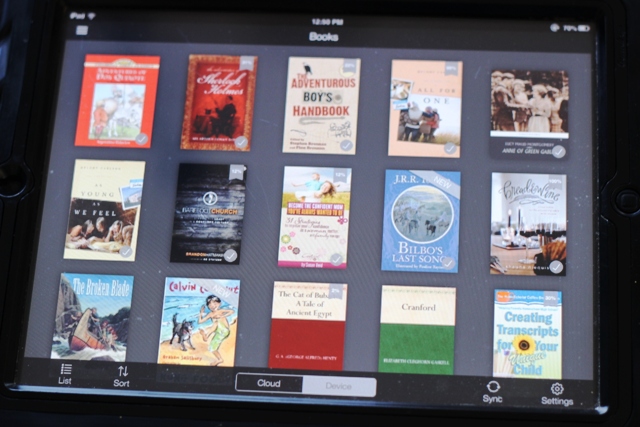 2. I can carry many books at one time.
Currently, I use Amazon's Kindle app as my go-to reader on my iPad and iPhone. With the Kindle device I won several years ago the kids and I have at least three portable devices to read from. The iBooks app is a close second, one that I use for ebook pdfs that I've purchased online. (If you don't have a portable device you can still download the Kindle for PC app and read Kindle books that way. )
We can carry 100s of books around with us when we're on vacation or away from home, making reading accessible any time of day or night.
This was particularly helpful earlier this week when my back went out on our "vacation". I wasn't able to take the kids on the planned field trip to Santa Barbara while my mother-in-law was at work and while FishPapa helped his dad with work projects. While I was laid up, the kids could access a myriad of books that we hadn't packed for the trip.
3. I can keep many books without worrying about a storage issue.
Ebooks make it possible to own thousands of books. Our personal physical library is limited to about four bookshelves, but with digital books I don't have to worry about maxing out my storage.
Plus, I just learned about Kindle Matchbook. Amazon will now sell you the Kindle version of books you've already purchased in paper or hardcover — at a reduced rate, less than $3 per title. So, if you want to reduce your paper, you can do so without paying full pop for the books you've already purchased.
4. I can read and exercise at the same time.
As I've explained before, I love being able to read on the treadmill. I don't think I could do it with a real book, but with the iPad screen, I can very easily flip pages and make good use of my time. I would be dreadfully bored on the treadmill without some kind of distraction. I don't like TV, but reading makes it worth it for me.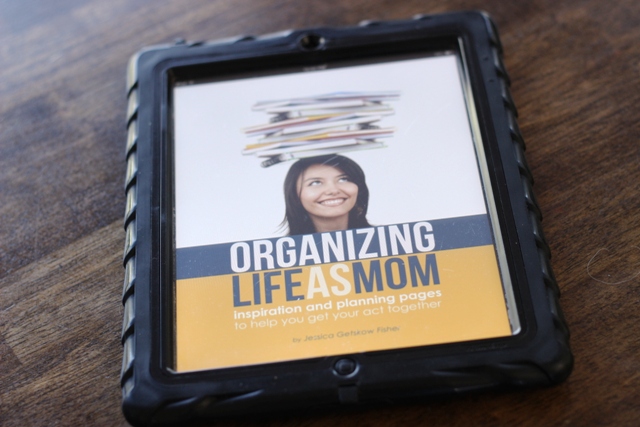 5. Homeschooling is easier.
We go through a lot of books in a school year. A lot of books. As I scroll through my iBooks collection (for pdfs) and my Kindle collection, I see that we've used many, many digital books for our homeschool over the last few years. Many classic novels are even available for free so I get a double bonus.
I buy certain Peace Hill Press books in pdf form so that I can save on the cover price of paperback. This helps us cut down on costs that are unavoidable (ie: these books are not available from the library).
I don't need to worry about which books to pack when we go car-schooling; I just grab the iPad and I have everything I need.
6. I can self-publish easily.
If you aspire to be a writer, the advent of digital publishing makes it much easier for you to share your words with the world. I've published these books on my own:
With ebooks you can get your feet wet in the world of book publishing. All you need are strong writing skills and a little desktop design know-how.
7. I can benefit from ebook sales and bundle pricing.
Since digital books don't cost the publisher as much to produce as paper books, they can offer these books at a discount, sometimes even free. This is a great way to lower your risk buying a book you may or may not like. The downside is that you can't always "return" a digital book or sell it as you would an old paperback you're ready to discard.
In addition to free books that are often available, you can buy ebooks from Ultimate Bundles that get you a LOAD of books for a very small price.
While I certainly don't want physical books to fall off the shelf, I do see some of the innumerable benefits to ebooks. Just like I enjoy email for everyday and real cards for making special memories, I think we've got room for both digital and physical books.
Benefits of digital books
no transportation costs
smaller carbon footprint
no late fees on library loans
more than one child can read a book at a time
you can own more books than your bookshelves can hold
easy to read and exercise at one time
easy to transport
easy to self-publish
cheaper than traditional books
What are YOUR thoughts on ebooks?
Are they worth it? What do you like about them?