Serve up a little fancy for Valentine's Day. Share your favorite fancy food at Ultimate Recipe Swap.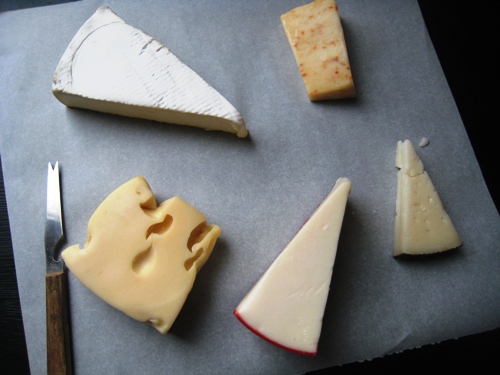 This month's theme for Ultimate Recipe Swap is "fancy food". In our house fancy food can mean any number of things. For one kid, it means he needs to use his fork to eat. Yes, we're still working on that. For my eldest daughter, fancy means that she's going to set the table with a cloth, candles, and all the flatware. When I asked my eldest child, the one with the most sophisticated palate to define "fancy", he said "anything with mushrooms." He loves mushrooms. Future Daughter-in-Law, please take note.
Fancy Nancy says that frilly toothpicks "make" the sandwich. You know they do.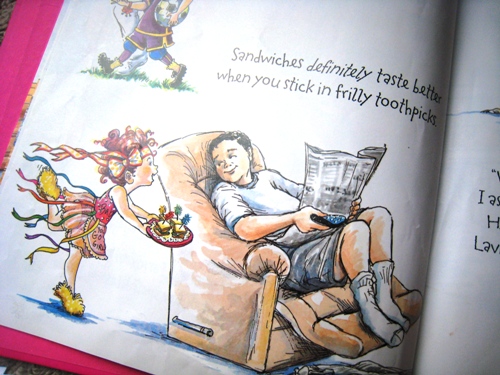 So, fancy is in the eye of the beholder.
For our purposes this week and in celebration of Valentines Day, I suggest an elaborate bread and cheese board as my fancy contribution to the table this week. The cheese course, if you will. It's not a recipe, really. But, that's what makes it so nice. Anyone can pull it together, anytime.
When I was une jeune fille americaine living in France, I first encountered the multi-course meal and the beautiful finale, the cheese plate. Granted, I was a little timid in which cheeses I would try, but I came to love the multiplicity of cheeses that the French produce.
Start with an appetizer, follow it with a hearty protein and vegetable main dish. On the heels of the delicious vinaigrette salade that followed the main dish, the cheese course was perfect. I could take that over dessert most days.
Later that year my then-boyfriend, now-husband came to visit. We picnicked our way across the South of France, baguette and cheese in hand. It certainly wasn't "fancy food", not served on a park bench. But it was special.
Today when I pull out the stops, I'll add a cheese course to the end of our meal. I usually have to  fend off my husband and make him wait until the end of the meal. Cheese and baguette is a favorite in our family. He'd rather eat it throughout the entire meal.
The cheese course does make a meal in itself if I want to be creative and add some fruit, veg, and pickles. But, then we call it a snacky dinner.
What can I say? We're unique.
If you'd like to serve a cheese course this Valentine's Day, simply arrange a number of different cheeses on a cutting board. Vary the textures and colors if you can. This is a great way to get your kids to bust out of the typical orange cheddar rut that they're in.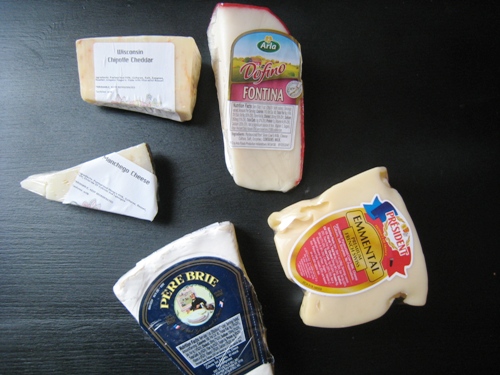 Recently, my local Sprouts had very small pieces of cheese packaged and ready to go. This is perfect for a cheese course. You can ask the deli counter to cut you small pieces at many a grocery store, so don't be scared to ask. Since I bought very small portions of new-to-us-cheeses like manchego and chipotle cheddar, I wasn't worried about "wasting" them if my family didn't like them. I threw in Brie that I knew they loved as well as two new ones that I guessed they might like: emmental and fontina.
Serving the cheese course is a great way to expose your kids to new flavors as well as add a little culture to the table.

URS Guidelines
Remember: Each month at Ultimate Recipe Swap, there is a posted theme. You are welcome to share any recipe that fits the theme and contains a link back to Life as MOM. If you're curious about the upcoming themes, I have a calendar here. This month's theme is Fancy Food.
If you have a recipe that fits the theme, please link it. However, things like Beef Strogonoff will be deleted from Chicken week because it doesn't contain chicken. Please keep this meme as helpful to others as we can.
And don't make me the bad guy! 

What is a fancy food at your house?