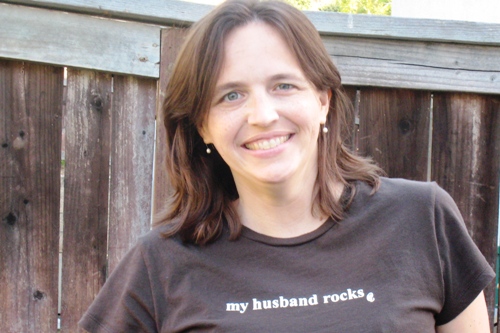 Last month we talked about how easy it is to give mom a bottle of perfume instead of an act of service. Service costs us something more than money. And it's difficult.
The same kind of thing applies to celebrating our husbands on Father's Day. True, the "holiday" is about children acknowledging their fathers, but it's also about moms recognizing their partners in this gig we call parenthood.
Encouraging our husbands, honoring them, and giving them our time and attention is more important than any tie, barbeque, or even a day free to watch all the sports they want.
Encouraged husbands and fathers are a blessing to their families in return.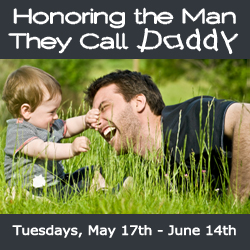 In the weeks leading up to Father's Day, I've been collaborating with a great group of bloggers to share ideas on how to "honor the man they call daddy."
The Gift of YOU
This week we talked about the gift of time, your time.
It's all too easy to get caught up in our womanly pursuits, that we forget to just chill — with our husbands.
Earlier in the week, I shared five things I've learned about marriage and the power of simply being together. I was pleasantly surprised by the swell of comments; apparently we struck a chord there. 🙂
Check out what the other ladies had to say:
Other Ways to Love that Man
Over the last few weeks we've talked about a number of topics to inspire you in your relationship with "the man they call Daddy." If you missed those, you may want to pop around and catch up. I promise you'll have at least one "a-ha" moment.
Father's Day Gifts that Show Love and Respect

My Husband Rocks
FishPapa is too modest. When he saw me in this shirt, he teasingly said, "Because I play the guitar?" Haha. But, truly, he does — rock AND play the guitar.
I love my husband and I love this shirt! So soft and comfortable — with a saying that speaks volumes, and not the rock music kind.
It's available in a number of colors and styles. I chose the fitted shirt which runs extremely small. So, check the sizing chart and don't be afraid to order an XL. Really.
The also have "my dad rocks" shirts to buy for your kids. Use the code U28ARW10 to get 10% off your order.
A Giveaway
This weekend one LifeasMOM reader will win a $25 gift certificate to Union 28.
To Enter:

Leave a comment on this post, telling us why your husband rocks.

For extra entries,

Follow FishMama and Union28 on twitter. Leave another comment telling me you did so.

"Like" LifeasMOM on Facebook and share the giveaway. Leave another comment telling me you did so.
Giveaway will be open until Wednesday, 6/22/11, at 8pm PST. The winner will be selected randomly and notified by email, and this post will be updated with their name as well. Please respond within 48 hours to claim your prize.
For even more chances to win, visit the other sites to enter a similar giveaway.
Why does YOUR husband rock?
Disclosure: I received a tshirt to review from Union28. I am also an affiliate. I was not compensated to publish positive comments. My husband really does rock.