The End of the School Year and That Mountain of School Papers
We are a participant in the Amazon Services LLC Associates Program, an affiliate advertising program designed to provide a means for us to earn fees by linking to Amazon.com and affiliated sites. We participate in other affiliate programs as well. For more details, please see our disclosure policy.
The following post is from LifeasMOM contributor, JessieLeigh:
Thanks to record snowfalls this past winter, we won't be getting out of school until the end of June this year. I know some of you have been out for a month already! Either way, there's always lots of paperwork to sort through and deal with.
It is always astounding to me just how much STUFF comes home with my two school-aged children. Between daily reports, artwork, homework, classwork, permission slips, special event notifications, and town news, I end up with an average of more than a dozen pieces of extra paper each day. That's a lot of extra clutter!
Now that the school year is over, it's important to tackle that mountain of paper and cull out the only ones that really need saving.
Here are five steps I'll be taking to tackle that chore:
Note important dates on the calendar. There are lots of "end of the year" festivities happening at the school and I don't want to miss them! It's much more efficient to mark them on the applicable dates and toss the notices that gather on my kitchen table.
Hang birthday invites or community activities we'll be attending on the fridge. These will get marked on the calendar as well, but I like to hold onto the originals in case I need to reference phone numbers or other details. Anything we're not doing? In the trash.
Fill out any necessary forms/slips and get them back to the school. I don't want any important school paperwork floating around here over the summer.
Get ruthless with the artwork. I keep one current and often seasonal piece of artwork on the fridge from each child pretty much at all times. Other than that, I save only very special pieces and ditch the rest. Is this hard? Sometimes. But I can honestly say that the kids don't miss it. I will also point out that I have never felt sad that my parents did not retain every picture I ever drew or painted. I'm just saying.
File important documents. Report cards, test results, therapist records from conferences… these all get filed away in individual folders for each specific child. These are the things I might need to reference at a moment's notice and I want to be able to get my hands on them quickly and efficiently.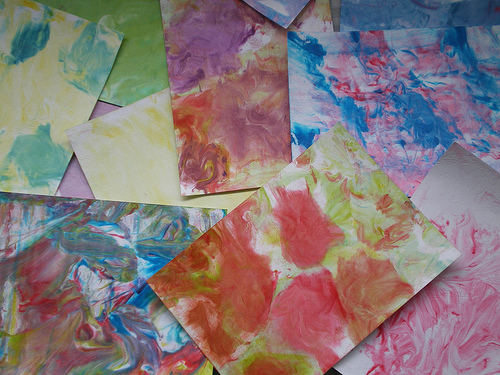 If I follow those steps, I should get things back in reasonable order. More important than all that, perhaps? Avoiding the avalanche in the coming school year. It will be here all too soon!
Some things to keep in mind as the papers start flowing through the door…
Ask about digital communication. Some schools are happy to email you their notices. This saves time, trees, and clutter. See if it's an option for you.
Touch each paper once, if possible. If it needs to be filed, do so. If it needs filling out, get it done. If it can get tossed, throw it out right away. There's nothing worse than shuffling the same stack of papers around for a week or two as it continues to grow.
Recognize your children's work as soon as you see it… and then give yourself permission to toss it if it's not something precious. Compliment her drawing or praise his math work… and then get rid of it. You really don't need to save a stack of multiplication worksheets.
Find out what your spouse wants. You may not have expected this one, but it's my last and most important tip. Find out what items your spouse wants to be able to look at. In our family, my husband is interested in seeing the academic stuff, but doesn't really care about the notices or daily recaps. I used to dutifully save the classroom details for him to peruse and I'd get frustrated when they piled up. Finally, he just told me, "Look, I trust you'll tell me about anything important."  That gave me the freedom to toss them after I'd read them.
I'm looking forward to a relatively paperless summer and to keeping it all in check in the coming school year!
What are your best tips for tackling the paperwork mountain?

— JessieLeigh is the mother of a former 24-week micropreemie and two full-term blessings as well. She is a determined advocate for the tiniest of babies, including the unborn, and a firm believer in faith and miracles. She shares about raising such a precious, tiny baby over at Parenting the Tiniest of Miracles.